For all my coffee loving, collagen booster sisters out there, try this coffee protein smoothie! It's sinfully delicious with an added banana for those necessary health benefits. Did you know that by consuming at least 2 bananas a day will help your digestive system tremendously? It's hard for me to eat one, so I'm taking it slow. And, if you allow the banana to turn a little brown, even better. That's when it's richest. After my gallbladder removal I've learned a ton about my insides. Eating healthier foods that really make me feel better is super important. Oddly, ice cream doesn't bother me as much.
Coffee Protein Smoothie With Collagen
If you're familiar with the famous peanut butter coffee smoothie this is much like that but with added ingredients and of course product preference. I do love Starbucks coffee at home. You can use any ground coffee. This is a protein based smoothie but you can tweak if you need.
What You'll Need :
a blender
brewed coffee (I used the leftover from this morning, which is rare that we ever have any left at all)
protein powder
an 8 oz cup
banana (or fruit of your choice)
peanut or almond butter
collagen powder (can use liquid)
ice
milk (I use almond milk)
anything else you prefer (like chia seeds)
How To Mix:
Pour 1 Cup of Ice Into the blender, 1 Cup of brewed coffee, 1 Scoop of Vegan Protein Powder, 1 Scoop of Collagen, 1/4 Cup of Almond Milk, 1 TBSP of PB, 1 SM Banana – blend until smooth adding additional ingredients if you prefer. This is just how I like it and it's a base of protein coffee smoothie with collagen. A daily dose of YUM!
Now remember that I'm not a recipe genius. I like to mix ingredients together and don't always measure properly. Eyeball it and adjust to flavor. You can always substitute and use whatever ingredients you have in your cupboards. I just happened to have bananas, (strawberries/berries would work), peanut butter and coffee. I recommend grinding your coffee beans because it gives those flavors a much richer experience. To me, pretending to be a barista in my own home is beyond fun and teaches me a lot about food!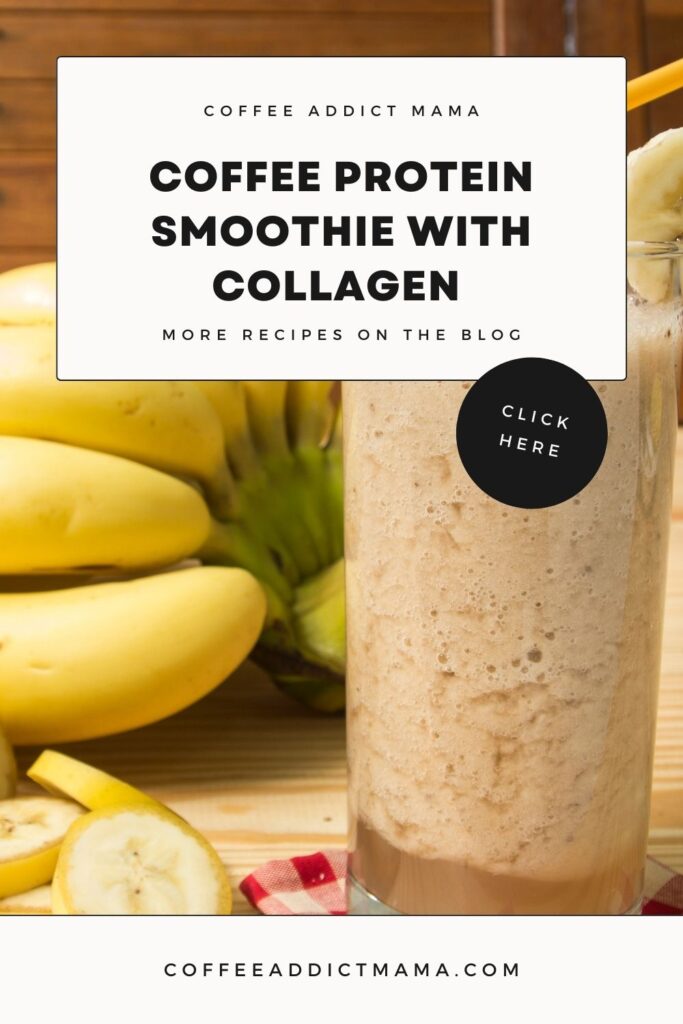 Protein Shakes With A Twist
In an effort to stay motivated with more energy throughout the day, I'm sticking to the protein shakes in the afternoon with an additional high protein dinner just to see if this helps curb my mid morning/late afternoon cravings. I will definitely let you know how this works out. After drinking this I did NOT feel full or hungry for several hours afterward. So far, so good!
If you enjoy whipping up delicious recipes, send them in and we'll feature. Don't forget to use the hashtag #coffeeaddictmama on IG, FB and Twitter to get re-tweets, shout outs and more.
If you have any leftover just pour the remainder into a dish and store in the fridge for up to 24 hours. How do you treat yourself? I'd love to hear how you drink your coffee smoothies.
Give us a like on FB and use our hashtag on IG…until next time, more coffee please!