Hello Boss Mama! Are you just starting a blog and need some classy post ideas to start your business off just right? No worries. I've got you covered. If you're new here say hi in the comments and share your links! I'm Victoria and have been blogging since 2010. Not a pro by any means but I'll be happy to share some tips that have helped me grow rather quickly.
Creating quality content for any blogger can be a struggle at times and I've witnessed many bloggers give up because they lose ideas but not today boss. We'll be posting a lot of ideas on what you can write about so you don't get in that funk.
Classy and Fun Blog Post Ideas For The New Boss Blogger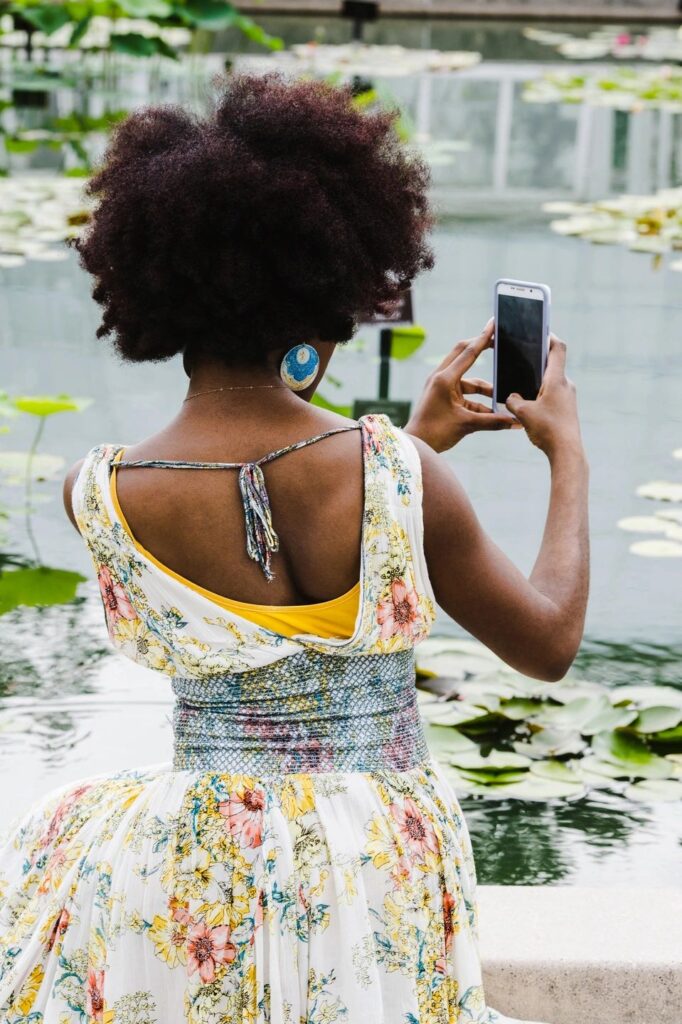 Need Stock Photos Like Whoa? Canva Premium Is The Way To Go!
I typically come up with HOW TO ideas because there's a lot of people searching the internet on how to do something. Whether you like DIY's or not, try to be creative with anything you come up with. How to's are the most popular searches on the web. You cannot go wrong when posting a tutorial sharing your experiences. Not a lot of thought needs to go into it either.
How to slow cook a pot roast – if you're a foodie and love to talk about food, come up with some classy posts regarding how to bake or cook something
How to style a minimalist bedroom – I'm a huge fan of interior styling and the blog posts for decorating your homes are endless. I might steal this one for myself. Come up with a ton of drafts that are related to home decor : how to create a cozy master bedroom, how to stage a home to put on the market, how to unclutter your living space, DIY farmhouse bookshelf styling, etc…..etc
How to clean your house in 1 hour or less
How to organize your closets
How to make glazed donuts
5 ways to pamper yourself this new year
DIY shampoo soap bars
All natural house cleaning recipes
Best Boss Blogger Tips
Recipes and food posts are also hot topics on the web because hello, who doesn't need a good recipe. Share your traditions with the internet.
Homemade Garlic Knots
3 Ingredient Peanut Butter Fudge
How to make homemade macaroni salad
The best Italian meatball recipe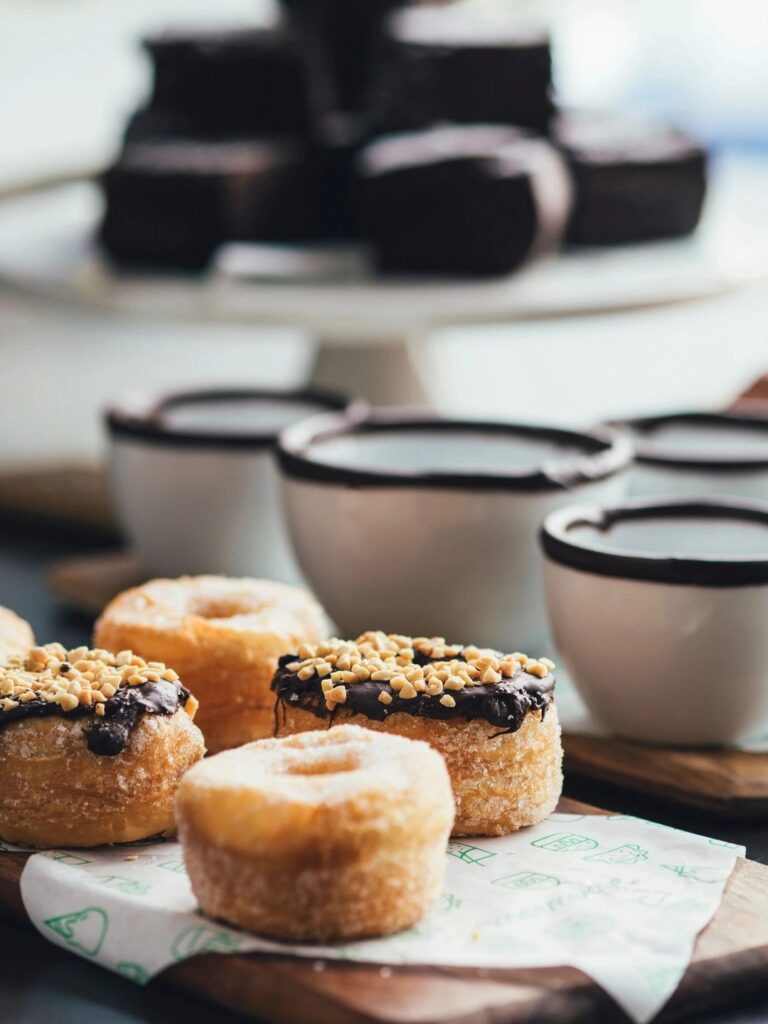 There's a link to some awesome catchy headlines in this post. When I was researching how to grow my cleaning business it was important for me to freshen up my blogging skills. I had loved writing blog articles in the past that pertained to myself as a diary which meant that I wasn't being found on the web because my titles weren't being searched. In order to be discovered on Google you must think like the users & improve your SEO skills.
Neil Patel helps new bloggers become successful and in this video he explains how important keywords are.
Keywords play an important role in branding your business as well as growing your blogs for that business. If you don't have a blog associated with your website, you definitely should!
Endless Blog Post Ideas To Help You Become The Best Blogger
Numbers are another famous hack to your title keywords. When you look at popular websites like buzzfeed.com you can instantly see how they utilize the numbers game.
They use numbers a lot in their headlines and craft ways to get the readers attention. Make it fun and go out of your element in terms of keywords. I'm not a pro at this by any means but I do love trying new hacks.
28 ways to combat stress through the new year
50 tips and tricks to surviving a pandemic
86 creative photography sessions
3 ways to make coffee at home
22 boss tips for the new entrepreneurs
7 delicious sauce recipes from scratch
35 things to throw away this year
10 home remedy treatments for anxiety
You get the drift! There's so many ways to come up with content that never gets old. I wish someone helped me when I was a new blogger back in the day!! I would have never given up. Well I guess I never really did if I'm here. I always found a way back to blogging, so if you're passionate about building a brand, learning how to blog and you like writing……keep going!
A Full List Of Blog Ideas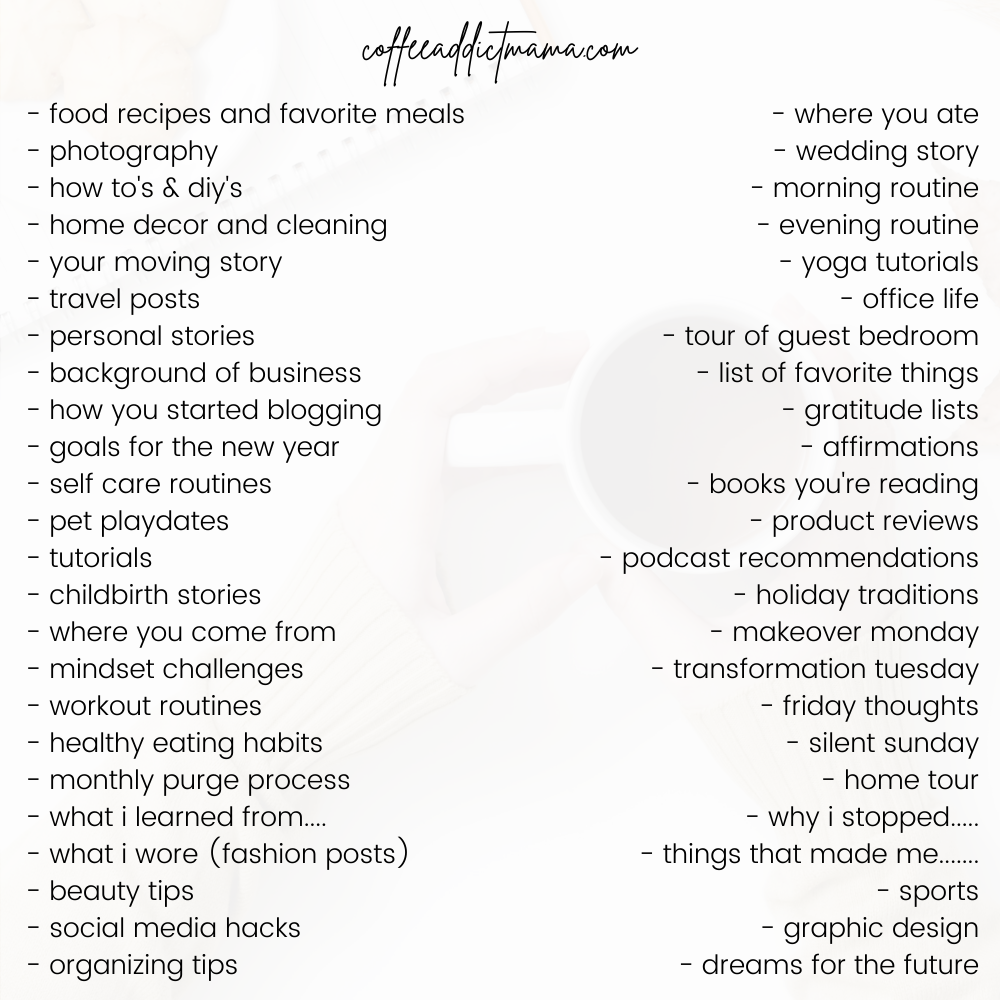 Keep in mind that OLD POSTS are the foundation of our continued learning success. Go back and edit your older posts with new content, photos and make them better than ever before. If you cannot come up with ideas, just go back and edit your older posts. Don't forget to update the post with the most recent date. Until next time, more coffee please!