Netflix aired "Sins of Our Mother" in 2022 sharing what happened to Lori Vallow Daybell, today found guilty of murdering her very own children. She was sentenced to life in prison without parole on May 12, 2023. Lori was also found guilty of conspiracy in the death of Chad Daybell's wife Tammy.
In the documentary, son Colby Ryan suspects his mother of doing something terribly wrong as the nightmare unfolds.
Raised a Mormon, Vallow's beliefs became increasingly fringe over time. In 2018, she met Daybell, the leader of a radical Mormon sect that was preparing for the end times. Vallow believed she was able to communicate with angels and that the end of the world would take place in July 2020. The series follows the details and aftermath of Vallow and Daybell's alleged crimes. [Via]
"Sins Of Our Mother" A Netflix Documentary
"It's a grisly, horrifying, chilling story with a long, complex and at times insane buildup."

Richard Roeper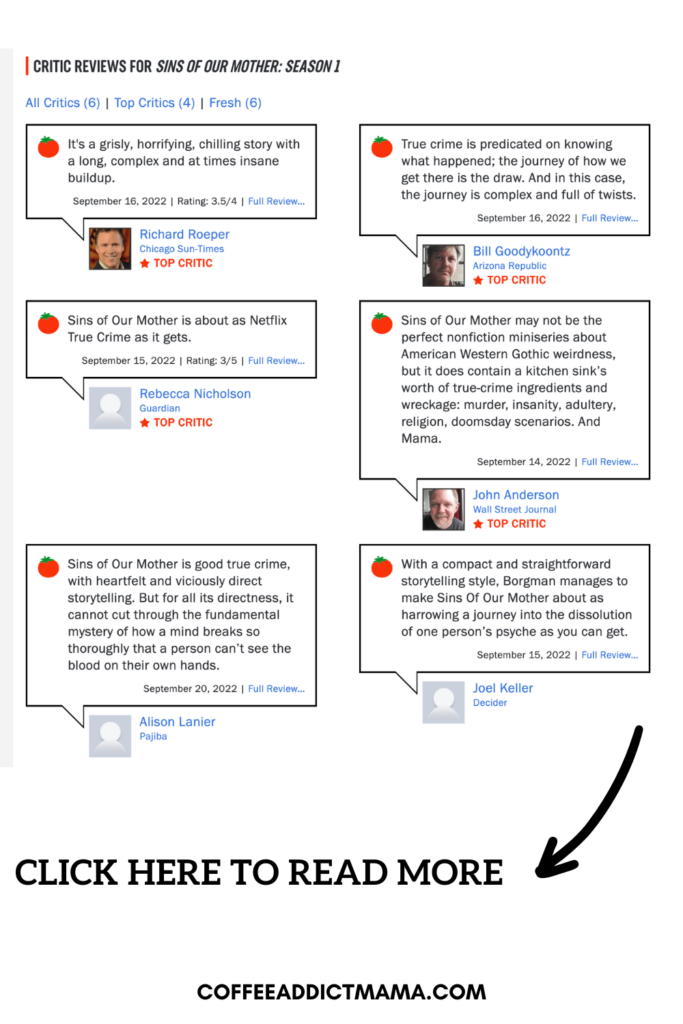 The three-part series tracks the downward spiral of Lori Vallow Daybell into a cult-like obsession with religion, which resulted in her being branded the 'Doomsday Mom' in the press.
Directed by Skye Borgman (I just Killed My Dad), the three-part documentary tells the story through the eyes of Vallow's surviving son, Colby Ryan and her mother, Janis Cox. Plenty of friends and family talked about how Lori was a good mom and could never do such a horrendous thing to her children.
Days after Lori was sentenced to life in prison in Idaho, prosecutors started the process to extradite her to Arizona where she faces those conspiracy charges in the death of her fourth husband Charles Vallow.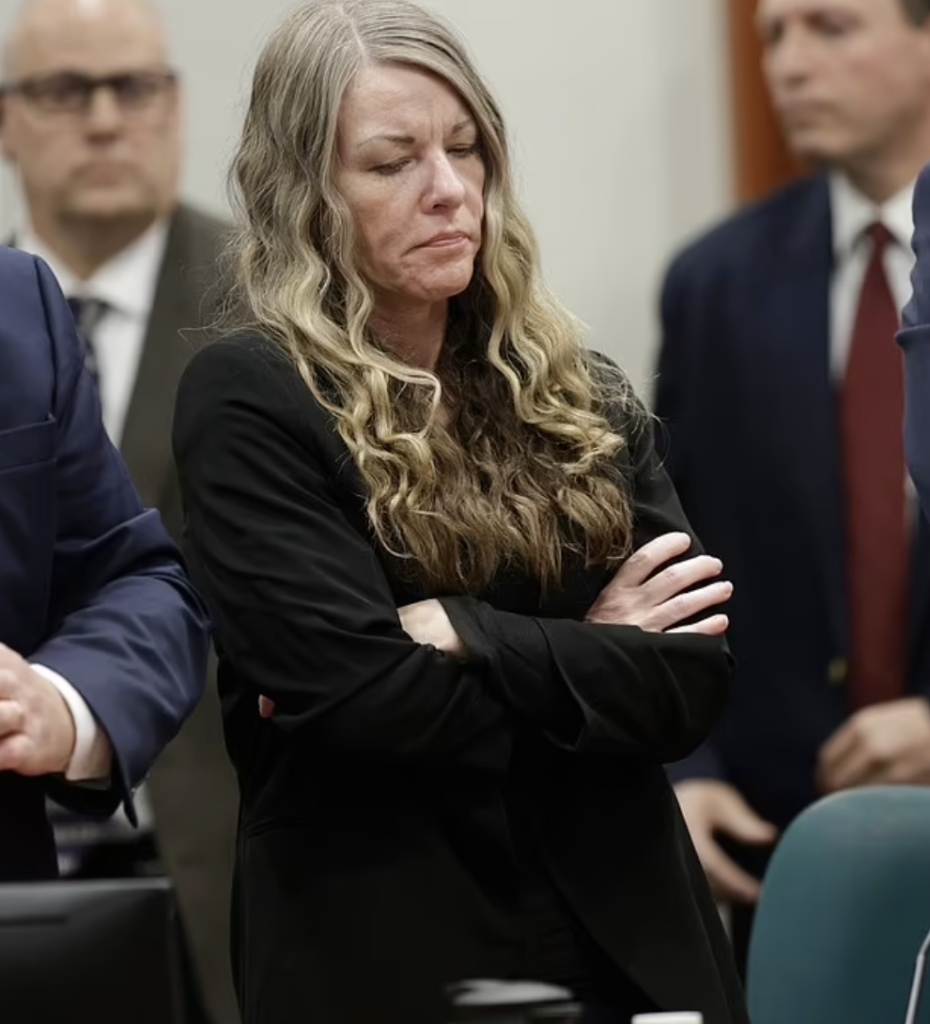 As if the story isn't gruesome enough, watching the grandparents of JJ, Kay and Larry Woodcock in "Doomsday: the missing children" telling their recollections is truly heartbreaking. This 3 hour event follows the Woodcocks as they take viewers into their home, court, and everyday life after the disappearance of Tylee Ryan and JJ Vallow. The two children were found in a shallow grave in Chad Daybell's Rexburg, Idaho backyard. You can watch this docuseries on ID.
Lori Vallow Daybell "Doomsday Cult Mom" Docuseries
Since the missing children's case back in 2019, Lori has been talked about and featured in several documentary series as well as a Lifetime Movie starring Lauren Lee Smith. It is believed that Lori ran off to Hawaii to get married to Chad Daybell after they planned and killed his 'at the time' wife Tammy Daybell. Initially she was buried then exhumed to discover she had been asphyxiated, not dying of natural causes. Both were later charged with the murder of Tammy Daybell. Prosecutors punch the timeline down to this:
Kay and Larry Woodcock get police involved when they lack hearing from grandson JJ Vallow, last seen alive on September 22, 2019. Tylee Ryan was last seen at Yellowstone National Park on September 8, 2019 with Uncle Alex Cox. The Woodcock's did not give up and pushed this story into headlines.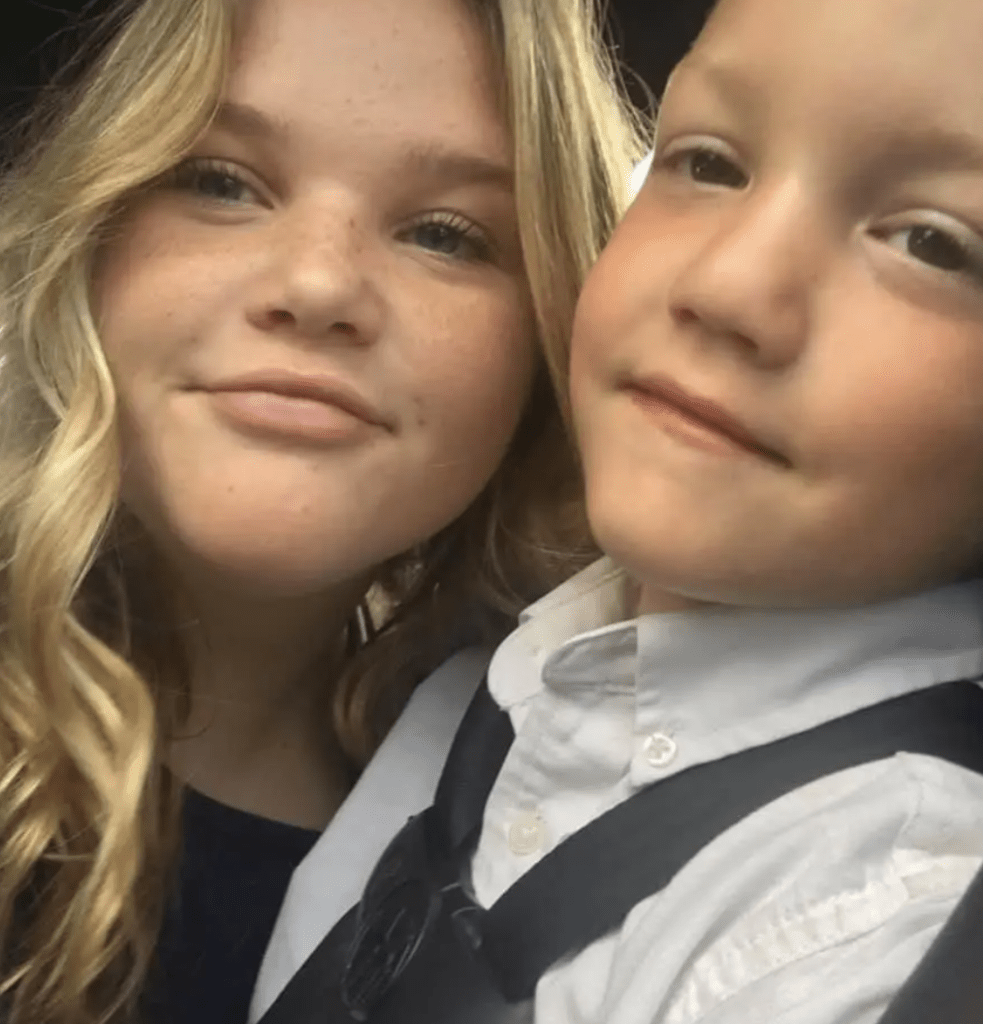 Timeline Cont'
Lori and Chad depart to Hawaii and get married on November 5, 2019. Rings were purchased on Amazon shortly before Tammy dies.
This is the same time in November when Lori is questioned by authorities on the whereabouts of her missing children and she never comes forward, lies about a friend having JJ and laughs as she gets into police car.
Meanwhile the disappearances struck a string of suspicious deaths including her estranged fourth husband, Charles Vallow. He was shot and killed in July 2019 by Lori's brother, Alexander Cox, who claimed it was all in self defense. Lori was on video police cam giggling and laughing about being new to the area and it then became very suspicious that she was having her brother do all the dirty work, aka killings.
In October 2019 Tammy Daybell dies. Chad requests no autopsy but during Lori's trial they exhumed body and it was reported as a homicide.
Alex dies of natural causes in December of 2019.
December 20th the Rexburg police declare the children missing.
January 26, 2020 Lori and Chad slapped with warrants.
February 20, 2020 Lori Daybell was arrested after she failed to meet the deadline on her children's whereabouts.
June 9, 2020 Tylee and JJ's remains found.
May 2023 Lori found guilty and sentenced to life in prison without parole.
What did Lori Vallow Daybell do to her children
Charles Vallow told police that his wife was crazy and going to have him killed not too long before his death in July 2019. He suspected she was having cult like mental issues when she started talking about "zombies" and how everyone was dark and needed to die. This is when he changed his beneficiary to his sister and cut Lori out of the will. Lori did not know this when she plotted to have him shot and killed by her brother Alex. Upon discovering that she was not going to receive life insurance monies from her husbands death, Lori began a downward spiral of moving from one location to the next, hiding from police and ultimately led to the killings of her own two children, Tylee and JJ. JJ was adopted by Charles and Lori. Tylee was from another relationship.
More coffee and crime coming soon.