Coffee Party Here We Come
There's fall birthday parties, anniversaries, receptions, graduation, baby showers, bridal, galentines, and even guys night out. But, what about the coffee parties? We're about to get caffeinated and social my coffee loving friends. Having a super awesome bar set up is the highlight. Rest assured we know how to host a fabulous coffee party (for all ages).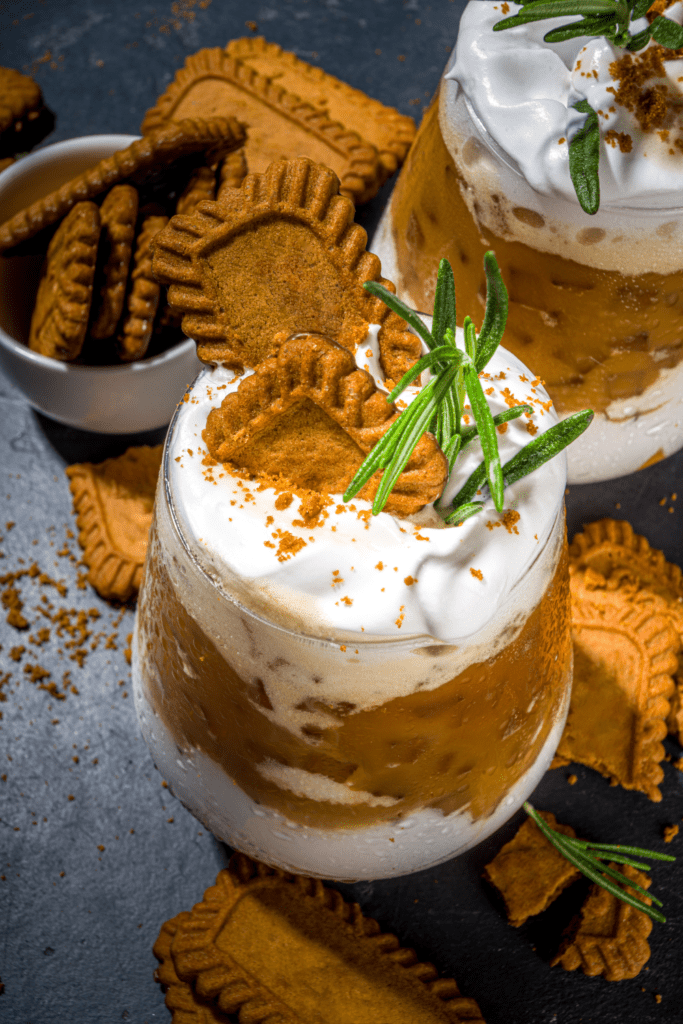 How To Host A Really Fun Coffee Party
Now, whether you'd like this coffee party to be at your own home, office or a coffee shop (lots of venues to choose from), we want to incorporate all the necessities to have friends and family talking about this event for years to come! My house always has a coffee bar but, I have visions of throwing big coffee parties like, whoaaaa! I'm a coffee addict….what do you expect.
But First Coffee…What's a party without the beans?!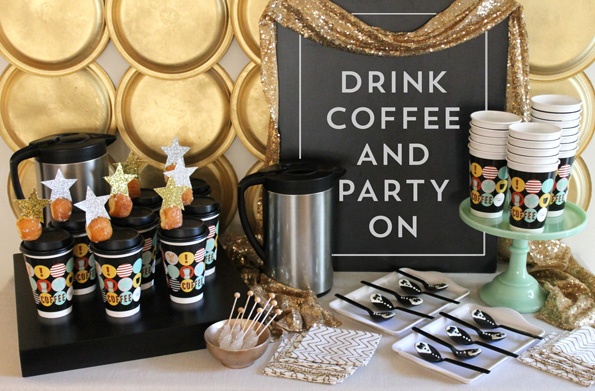 First things first: decorations, coffee and people! Coffee bar decor is essential because this is what everyone will see when they arrive. Depending on how many guests you may have will depend on the size table for your bar area. You could also create additional snacks and drinks on a kitchen island or counter top. Pic above via.
Where to find coffee decor + party supplies-
Amazon is overloaded with coffee signs, paper dishes, disposable coffee cups + more. Simply type what you're looking for in the search and browse weeks before your party date.
Etsy is my all time favorite online place to shop because people create handmade/vintage goodies just for these types of parties.
Your local Target, TJMaxx, Marshall's & Home Goods- these places are filled with great supplies, decor and things you'll need to host this awesome coffee party! Don't forget the mugs.
Things You'll Need:
regular mugs and disposable coffee cups ( have additional solo cups for things like lemon water, etc )
coffee ( ground and beans for decoration purposes; pour some beans in glass jars to set around the area for aroma and who doesn't love looking at gorgeous coffee beans )
plates and dishes- set these up around the coffee station for easy access
thank you gifts- I mentioned the mugs above because you'll want to give a little gift bag away as a momentum thanking them for coming. Be creative….maybe a mug with some goodies in it and a nice thank you card
a table to set everything up on- use your kitchen islands and counter tops if you have enough space
coffee makers- typically you would want a Keurig or one cup maker to allow everyone to get fresh coffee when they choose. Keep in mind that hosting a coffee party requires some commercial equipment, so buy a better machine. Also a 12-18 cup maker to keep brewing throughout the event. Possibly 2-3 depending on how many guests are invited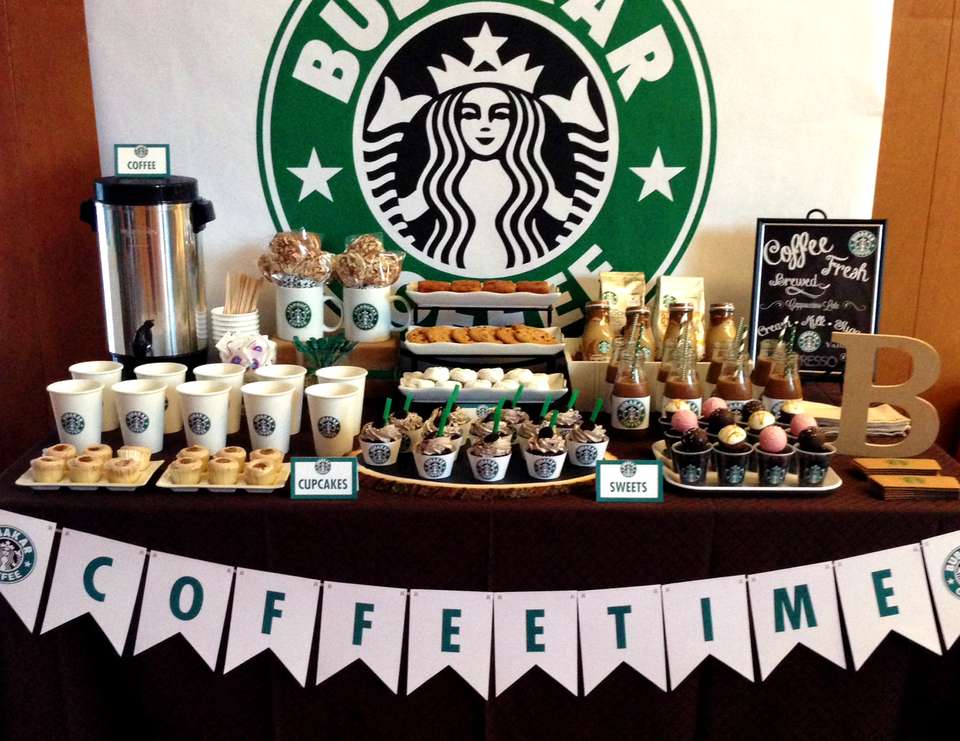 Here's some awesome displays to give y'all ideas on how to decorate your coffee parties.
More Things You'll Need:
snacks, food and desserts- here's a breakfast party idea that involves delicious morning foods. However, if you'd like to host this party in the afternoon or evening that's totally acceptable because not all coffee lovers only drink in the mornings

Once you get a clear idea on how you want to host this party, get invitations out at least 6 weeks in advance. Also make sure that you create the event on FB under events and invite everyone you want to join.
A coffee party can be morning, noon or night. I have friends with kids who drink coffee and I know how ( to some ) that might be crazy but some parents believe it helps regulate hormones, and gives them the balance they need throughout the day. So, a mini bar for children with DECAF coffee or even hot cocoa would be fun if you're planning this event for adults with children coming too!
Coffee Parties For All Ages
Hosting and catering a coffee party doesn't have to be difficult. Just have multiple choices like: Regular Coffee, Decaf, and even Tea as an option for friends that want something different. Heck, throw a drink of your choice in a disposable coffee cup for your kids and PRETEND there is coffee in it.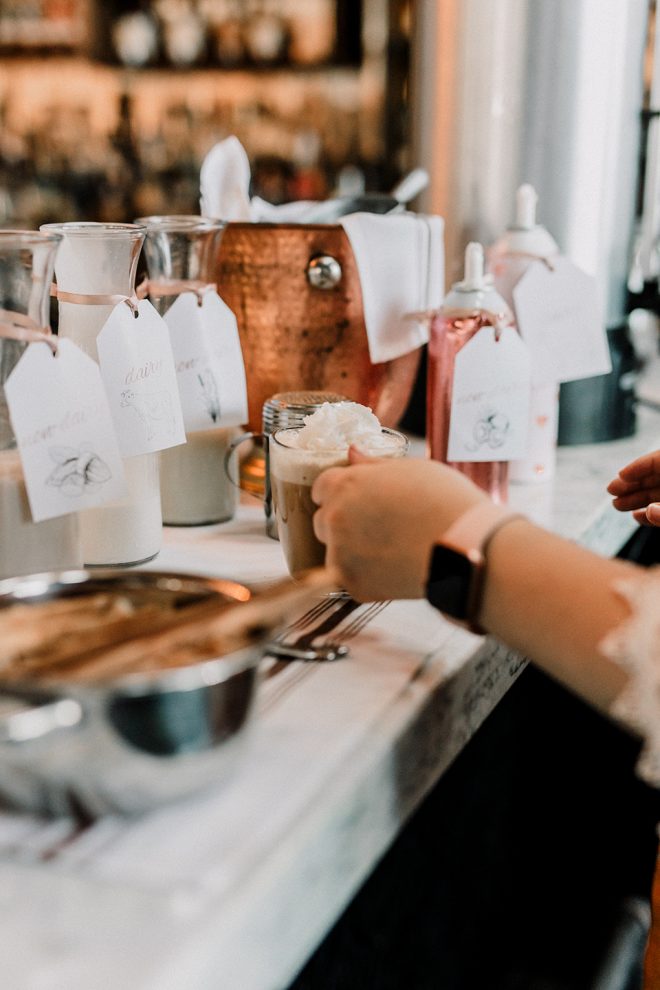 Remember that this is the perfect time to get to know each other, meet new faces, mingle and enjoy GOOD conversations over DELICIOUS coffee. Not everyone needs to meet a new friend at a bar or church. Host your own coffee party and start a new trend.
While an event like this may be expensive; good things rich in flavor are worth it…preparing to host a coffee party way in advance is the key to a fabulous outcome. It's fun, a truly terrific idea and who says you can't rock out a coffee bar every now and again for more excitement?! I know that there are tons of folks craving a party like this, so get preparing and get hosting!
Pro Coffee Addict Tips:
ask local coffee shops if they'd like to sponsor this event for you- in return you can display their business cards and promote them on your social media accounts
ask a friend to go in with you- girlfriends + sisters + moms love throwing parties. Everyone pitch in to create the best party of the year
collab with other bloggers and small business shops for those gift bag treats we mentioned above. Mugs and goodies can get expensive but if you ask people to donate a little gift of some sort in exchange for some advertising, you'll knock out a really awesome giveaway
look for clearance deals- my inner decor on a budget always kicks in and I scour the racks at Target and TJMaxx for anything worthy of hosting a party ( dishes in particular )
And That's How You Throw A Fabulous Coffee Party
Be sure to share your pic parties on IG using the hashtag COFFEEADDICTMAMA and Like Us ON FB. Until next time, visit our sidebar and chat with other coffee addicts daily! XO