So you want to make money from home. Grab a cup of your favorite coffee and let's hang. Did you happen to set up your Pinterest yet?
8 Creative Ways To Make Money From Home
A couple of weeks ago I was talking to an old friend who asked for ways to make money off blogging. That wasn't the first thing I recommended because I am an honest blogger and don't sugar coat anything. In short, yes! You can make money off your blog. However, it doesn't happen as quickly as one might hope for. I never encourage anyone to start a blog just to make money. It's work. And it could take at least 6 months to get well established. Especially if you know nothing about it. I don't care how many friends and family you have reading it. Nevertheless, I will still share tips on how to make money blogging that continues on from my last post. You can also grow your blogs really fast if you follow these SEO tricks.
E-Books + E-Courses– this is the fastest way to create an online income! If you like doing short tutorials, how to's, classes, etc…..this is the way to go for immediate money flow. You don't have to be a genius to come up with content. Just think of your audience on FB ( especially because that's where your friends are ), and ask them what they like or need help with. Create e-books and mini courses off their feedback. Advertise your book when it's done. Don't even know where to start, check this out. If you're a good writer who likes to present things, you can whip them up in no time.
Mini Sessions– these are online sessions via emails, video chats or even phone calls and texts. 30 minute sessions are for anyone looking to coach people that need help with certain struggles in their lives and want that one on one connection with you, the expert. So whatever you are good at, offer that! You must be well experienced and be ready to offer real tips, advice and genuinely act like a boss, which leads to my next money making tip.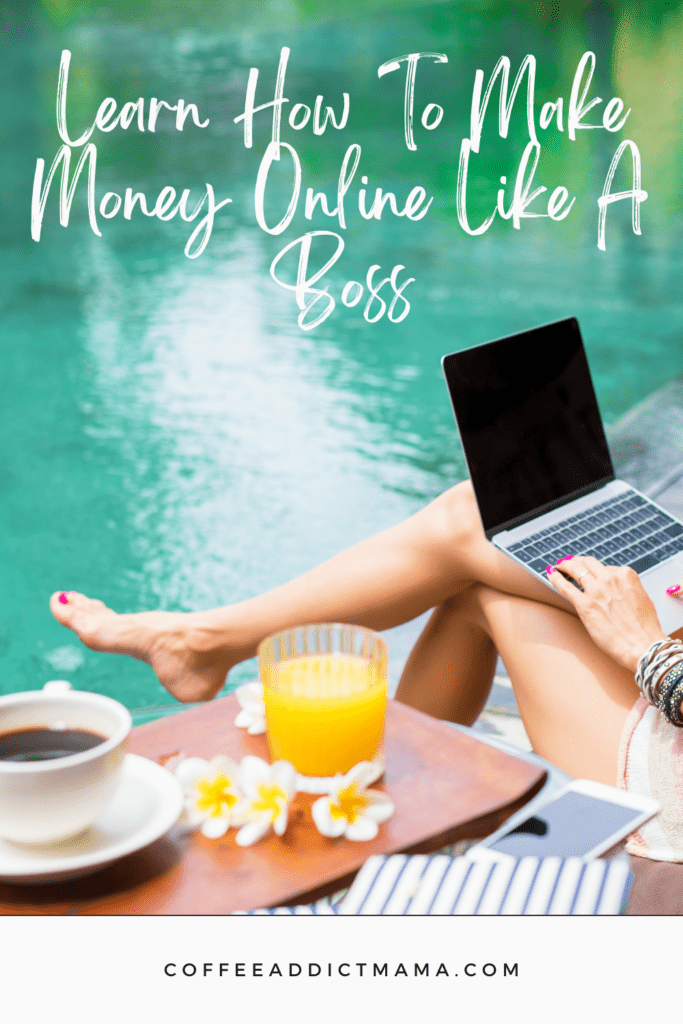 Start Making Money Online Now
Become A Coach– there's so many people online acting like coaching is an easy thing to get into and it's totally NOT. Do not fall for the pitch or the inexperienced life coach that truly knows nothing about what they are talking about. The reality; you don't need a certificate or a diploma of any sort to call yourself a lifestyle coach. However, you must be on top of your game and know what you're talking about. Do it because you have the expertise not because you wanna rob someone for their money. You'll find different articles about whether you should have a niche or not and in my experience; I say absolutely!!!! Narrow down. Don't pretend to know about everything in life if you DON'T. If you're a lifestyle expert, then fine. You don't want Sally coming to you for business advice if you don't know anything about running a business. If you only know about health and wellness, perfect! Target that audience. Just because you don't need a certification to coach doesn't mean that you shouldn't learn how to talk to clients. While many certifications cost thousands of dollars, there's enough on the web to affordably become one. If you wish to become certified, do your research before just going with any online course.
Etsy– open a shop on Etsy to sell vintage goods OR digital products. I'm sure you have stuff lying around the house that needs decluttering and if you don't then you can create postcards, resumes, graphics and such using Canva. If you are familiar with Photoshop or Cricut, those are awesome ways to break out your craftiness too. I personally use Canva to create everything. The Pro Version is affordable at $15/mo and it doesn't take long getting used to. Don't have a clue how to create on any of these? Check out this boss queen below:
Become Your Own Boss Today
This may seem crazy to you that you are even researching how to make money online but in all reality, it's totally a THING! You can make money if you have your mindset geared towards the goal.
Upcycle Old Furniture– I was quickly able to paint old pieces of furniture ( dressers especially ) and re-sell them on FB groups and marketplace for profit. It started as a hobby and then became a small business doing custom designs, upcyclying wine racks and more. Painting on my kitchen floor was cold….but I paid my bills. If you're in the right location you can find furniture on the curb for free. Look online for FREE ads, particularly Craigslist and FB. Dumpster diving is illegal in many places but I know some areas can get away with it. You also have to have the right vehicle to throw the stuff in.
Sell Your Wardrobe– I know many of you have way too many handbags and shoes…clothing too. Get on the Poshmark app and watch the money come in. My daughter and I popped on to see what it was all about and if you have the right pieces, they will get snagged rather quickly. It's quite interesting and now you can sell HOME GOODS. I deleted the app but gonna get back on because my mugs sold rather quickly. If you have the app, I believe you can log right in from your FB account and start listing. They pay for the shipping, you just print the labels and there's millions of people on there looking for your stuff.
Easy Ways To Bring In Extra Income
If you're anything like me and like to market not only your brands but other people's products and service; get a social media management job. You're on social media a lot these days…..am I right? If you're any good at it, get involved with groups and follow big boss ladies who are hiring social media managers. You can also do virtual assistance as mentioned in this post.
Social Media Manager– you get to publish creative content on platforms like FB and Instagram, ( Pinterest is not a social media platform and should NOT be included in these services. If you are a social media manager right now and you're helping them grow their Pinterest accounts under this belt; you're not making nearly enough money girl )! Those two are totally separate services. A social media manager handles 2 accounts, typically for the money. They tell you which ones they need you to manage and you strategically market their brands on those 2 accounts. If they need more than 2 accounts, charge more. I specialize in Twitter and Pinterest, so my fees are completely different than what I would charge for FB + IG. You have to know the platform and what works for you, may not work for that client. So learn as much as you need to know about them before you commit. There's a lot of wishy washy VA's and managers out there….if you're looking to hire someone…..make sure they don't just talk the talk……they better walk the walk as well!!
Become a Podcast-er
Podcasting– I'm sharing this last way to make money online because I want to learn more about it myself. I often talk to myself and have attempted speaking many times through my iPhone voice memo, but I really want to have a Coffee Addict Mama podcast, so let's do this together. If you already have one, share tips please. Would love to collab also. Well, how do you make money from it? Here's what I learned: It's not the quickest way to make money but can absolutely pay off in the long run. Sponsors will pay you to host a podcast ( mentioning their products, services, etc ) and you can monetize it so that you create income. Some pod-casters make $400,000 according to these stats. You have to learn as much as you can about this so that you're properly set up for a huge following and gain interest from big companies.
How To Make Money Online (And What Doesn't Work)
Here's many more ways you can make money online! However, I did not mention affiliate marketing, MLM's, or Adsense because I've tried them and they don't work as quickly! Unless of course you have millions of views but still, messy. If you're into MLM please beware and do your research before investing all kinds of money into products that are unethical and not truly what they represent. Just my pro boss tip to prevent you from overwhelm.
What do you do online to make money?!