Using Pinterest to grow your brand is highly recommended by this boss! Today, I'm updating this post and for those of you who have been utilizing these tips already, scroll way down for the most recent ways to skyrocket your Pinterest accounts. After doing research over the past few months, I realized that there really is no need to try and push getting followers. Sure, you'd like to have some but chasing them is not necessary. Learn how you can make money on Pinterest too, you won't be sorry.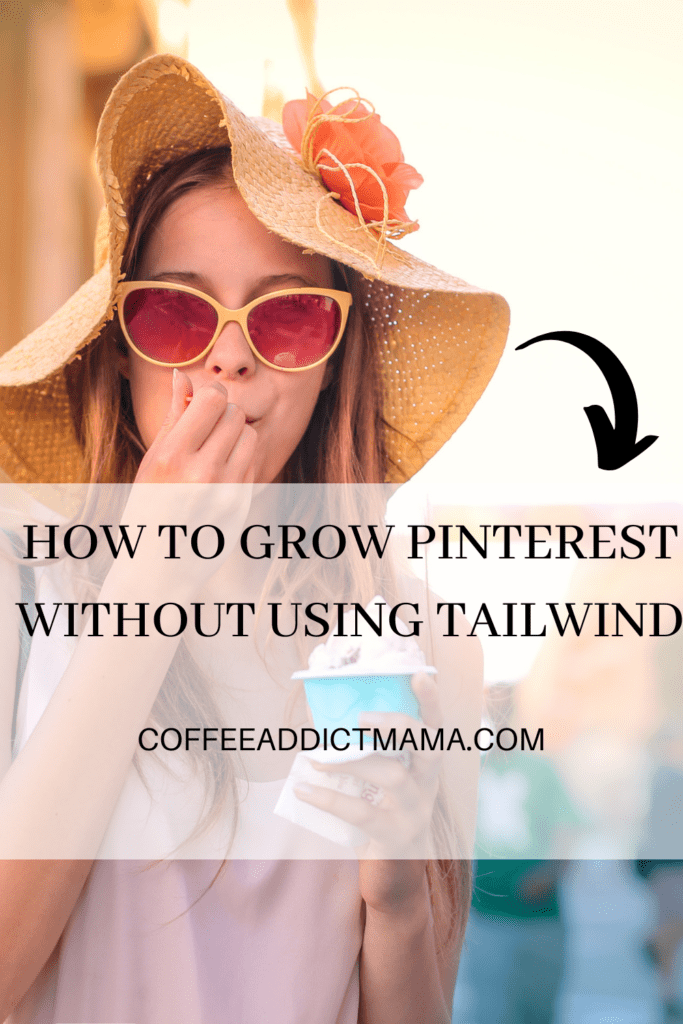 6 WAYS TO SKYROCKET YOUR PINTEREST ACCOUNT WITH LITTLE TO NO FOLLOWERS
If you have yet to access the business features, start by switching over to a business account. Go To EDIT SETTINGS —> ACCOUNT SETTINGS —> CONVERT TO BUSINESS. This enables you to treat it like such and now you will have access to your analytics. The benefits of going 'BUSINESS' is building your brand through this platform. If you haven't already done so, get a move on it. Here's a great outline on this topic.
Now that the business account is set up, be sure to create a great bio with a link to your website, shop, blog or even your IG account. Wherever you want your traffic to go. Down below as one of our 6 ways to skyrocket your Pinterest account with little to no followers will be about CONSISTENCY. This is an important factor that I started using once I wanted to GROW my blog! Initially I didn't even use my CAM account I was using my cleaning business account and had about 10 boards that I would pin to daily. I kept on seeing these 10+ million accounts and wondered what I could do organically to do the same. So, I just pinned frequently throughout the day for 30 days straight and BAM…an increase in stats. Amazing how little you have to do to improve your following once you do start pinning more often. That's why trying to get followers isn't necessary. They'll come all by themselves when you just use the app more.
HOW TO GROW YOUR PINTEREST WITHOUT USING TAILWIND OR ANY SCHEDULING APPS
The only way you can grow anything is by utilizing it often. So how can you grow your Pinterest account without using a scheduling app such as Tailwind; here's how:
Get Pinning- opening the app daily just to pin to your boards will help immensely
Create Worthy Boards- take a glance at some high traffic food bloggers accounts and see what board titles they use and start making your boards have catchy titles/descriptions
Pin your own content- I use Canva to create my photos and graphics. Simply open the Pinterest app to add your photo and of course make sure you add a TITLE, DESCRIPTION (WITH HASHTAGS), LINK TO YOUR POST/SITE, SAVE TO RELEVENT BOARD AND PUBLISH
Schedule your pins for FREE- now you can publish your pins for free right from the Pinterest app itself: HIT THE + BUTTON WHEN YOU OPEN THE APP, SELECT PIN, ADD YOUR PHOTO, HIT NEXT, ADD TITLE, DESCRIPTION, WEBSITE LINK, THEN CHOOSE THE PENCIL NEXT TO THE PUBLISH NOW TO PICK A TIME TO POST
Pin Stories- at least a couple of times a week you should be creating video content with your pins
The algorithm changes a few times per year, so it's important to have a business account to see when people are saving your pins.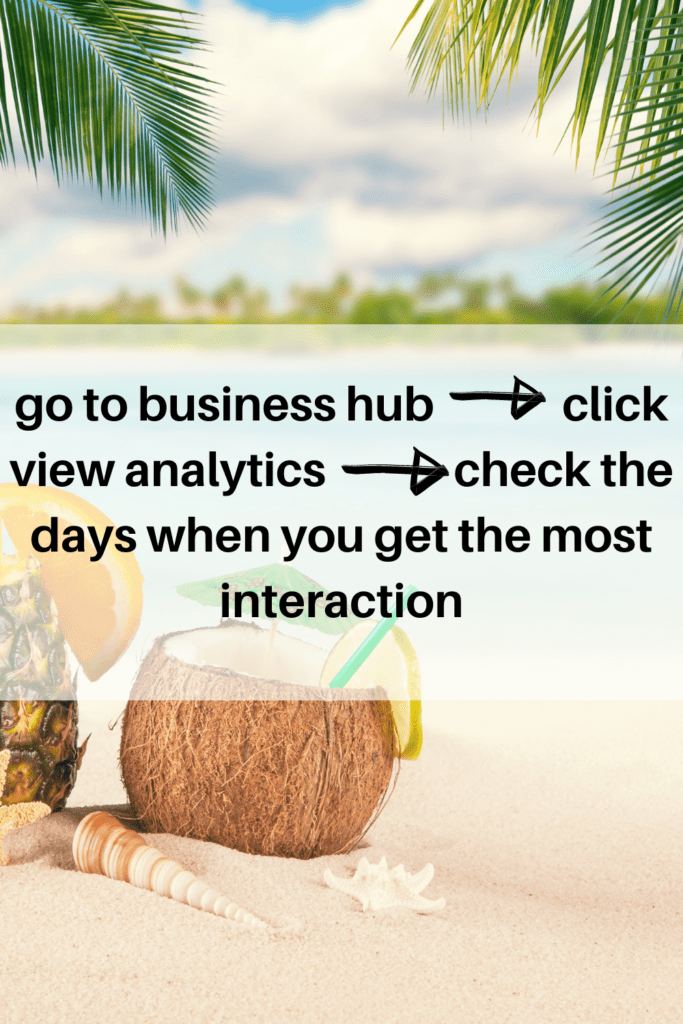 Saturday used to be a top day to pin and since the LATEST change in Pinterest Algorithm, it's now Monday (for me). You have to look at your stats weekly to see what's working for you! What works for everyone else may not work entirely the same for you. I like pinning on Friday, Saturday and Monday (my own content), then everything else to boards throughout the week.
SKYROCKET PINTEREST TO THE MILLIONS
1.) PIN MANUALLY OFTEN– this here is going to be my biggest and most valuable tip. This can be very time consuming but you can master it by using the same time management tips I use for blogging. Using a scheduling app such as Tailwind or Viraltag will help, but I personally do not use because I believe in organic growth and I'm cheap, so I don't pay anyone for anything. You may not even see monthly views up to a half a million with those apps. Manual pinning is also great for control. You know what you're pinning, when you're pinning and how you're pinning. Something that bothers me a lot about Pinterest is the unsecured links when clicking on a photo to visit a website. I can tell if a site is secure just by looking at the link the pin is connected to. If it's not, then I don't pin it.
2.) HIGH TRAFFIC BOARD NAMES- You may read that keywords are important in descriptions and such but I follow high traffic accounts that don't use any! Create boards with topic titles. Those are the most important keywords. Your title to your board will be extremely important. You can follow The Crumby Kitchen, she's one of my faves. Her boards will give you a great example of title topics. You should focus on the keywords in titles and descriptions when necessary but don't overdue it because Pinterest will find it spammy. I stick to the simple stuff and limit the keywords.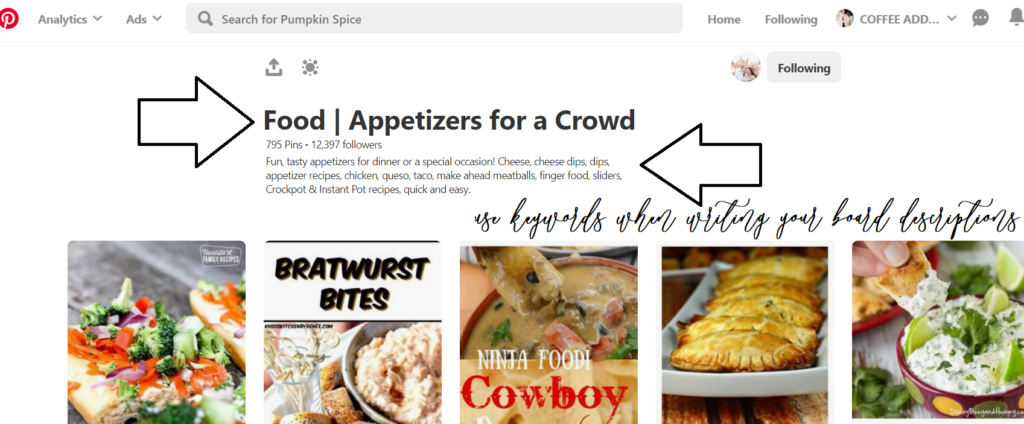 3.) PIN LIKE A BOSS– While pinning others pins is quite the norm, you have to also directly pin (among-st other hacks). Pinning directly from your favorite websites is going to boost your accounts really fast. So instead of just re-pinning everything on your feed, check out some of your go to sites + blogs and start pinning their photos from their most popular posts. AND, you must follow this trick as well: your main feed is a great place to grab pins for your boards but go to the following button and start pinning what they pin.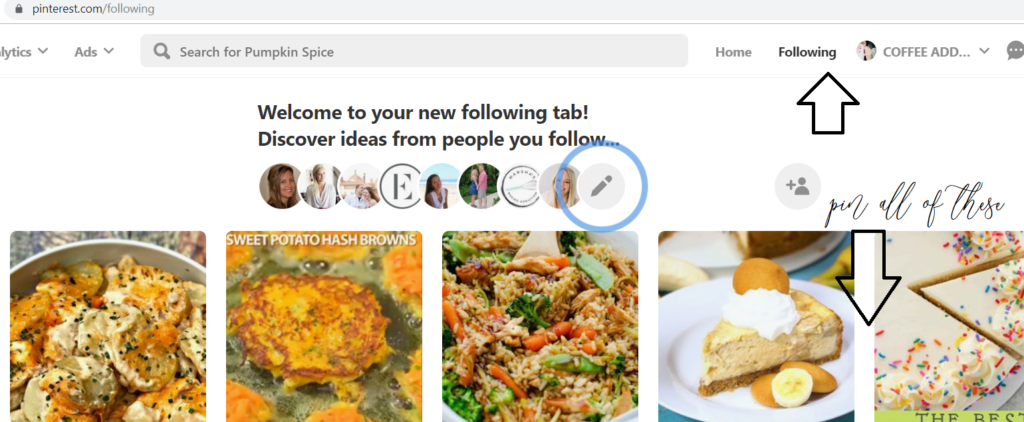 4.) RICH PINS– Enabling rich pins on your account will be a game changer for reals. I'm just learning more about this myself so, you're not alone. All of this seems really intimidating to someone like ourselves who have no idea how to master Pinterest, until now. Rich pins are basically pins that give out more information to the user before they click on your website. I am going to specifically be using the article rich pins to help you as much as I can. I started this community to share tips and if that means I learn along the way, then awesome! We're in this together.
5.) PIN POPULAR THEMES– I'm already a huge home décor fan but it helps to pin extremely popular niches like; FASHION, FALL (seasons), BEAUTY, ART + HOW TO's, etc. When creating some of those topic boards we talked about earlier, make sure you have these really popular topics to pin from. Also, do not let one board go unnoticed for over a week. Pin in all boards, all the time or at least frequently.
CURRENT MONTHLY STATS: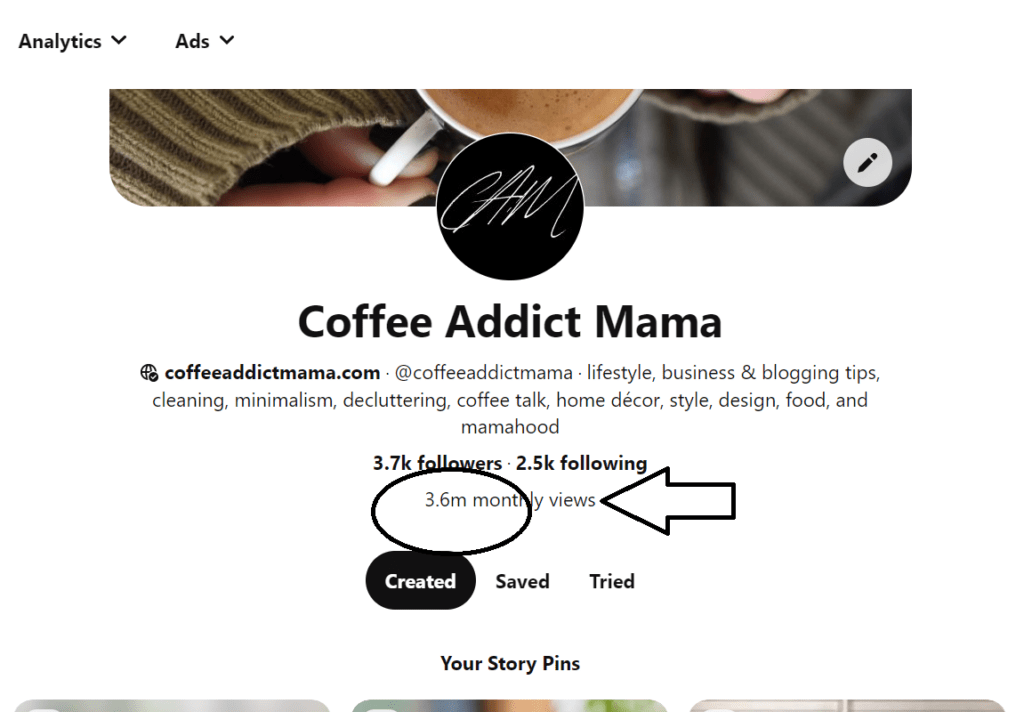 Before we get to my very last tip, let's discuss those followers we don't really need to grow our traffic. While many users focus on gaining followers because they believe those followers will click on their pins, the focus needs to remain in the actual numbers. Goal setting to 1 MILLION MONTHLY VIEWS was my target. If I reach that in one month or less, my target becomes 2 million, so on and so forth. Your actual engagement becomes 1/4-1/2 of those million views which in fact turns into more monthly views to your websites, shops and blogs. Remember to actively pin your content. You can take a look at many famous accounts to see that just because someone has a lot of followers, doesn't mean that they have a lot of views. And those with a ton of views, only have so many followers.
6.) PIN VIDEOS– This is my newest favorite tip and when you pin more videos you will see an increase in stats. Also use the new emoji feature on these videos. If you cannot create your own videos at least pin others. This is on fire right now and my favorite to pin. Much more fun than photos.
BEFORE + AFTER STATS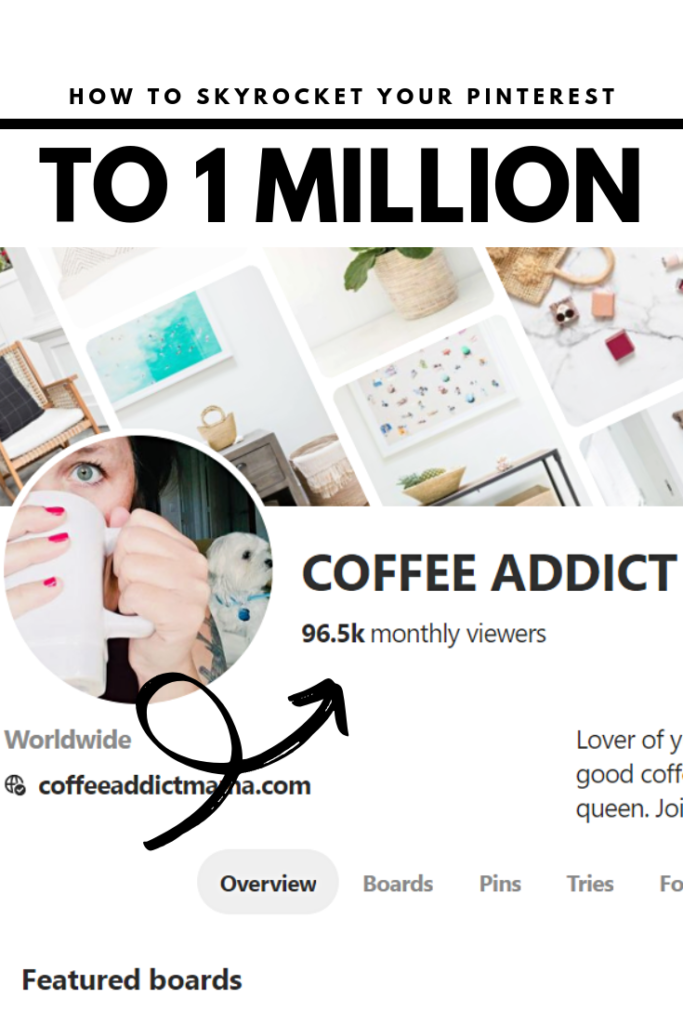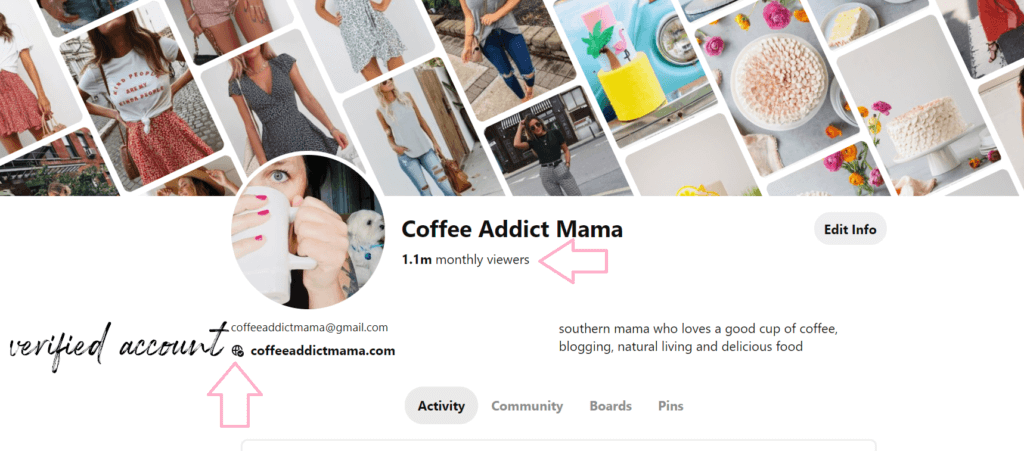 It's evident that when you use the app more, you really see results. My stats increased within one month and then gradually grew to over 3.3 million monthly views within 6 months. What a WIN for manual pinning!
BTW: even if you don't have enough content of your own to pin right now, you still want to build the account. Because when you do get the content, even just a few….they could and eventually will go viral!
ADDITIONAL WAYS TO SKYROCKET PINTEREST TO THE MILLIONS
This website platform is a search engine and constantly changing the algorithm. Staying on top of this app is more important than any other app when trying to grow your blogs and businesses fast.
Start using it more frequently
Upload your own stories and videos linking back to your websites and make it fun
Don't give up on the app if you don't get it….neither did I until I wanted to learn more about it
When you upload your own photos, see the pin, edit and add your hashtags and titles
Delete old pins you've created that aren't getting any stats
Create content and upload them at 11 PM EST to see if that gets more attention
Randomly shoot out pins you've created throughout the day to see which pins are getting the most exposure
It's really IMPORTANT to remember this:
Accounts with 10+ million monthly viewers have been on Pinterest for many many years. If you're just getting started give yourself time to develop.
PINTEREST STORIES IS THE HOTTEST NEW TREND- create stories to boost your numbers
Group boards are not my thing and I think they are too confusing so, if they are not your cup of tea, don't join. Until next time, more coffee please. What are some of your pinning secrets? We want to know the inside secrets of manual pinning.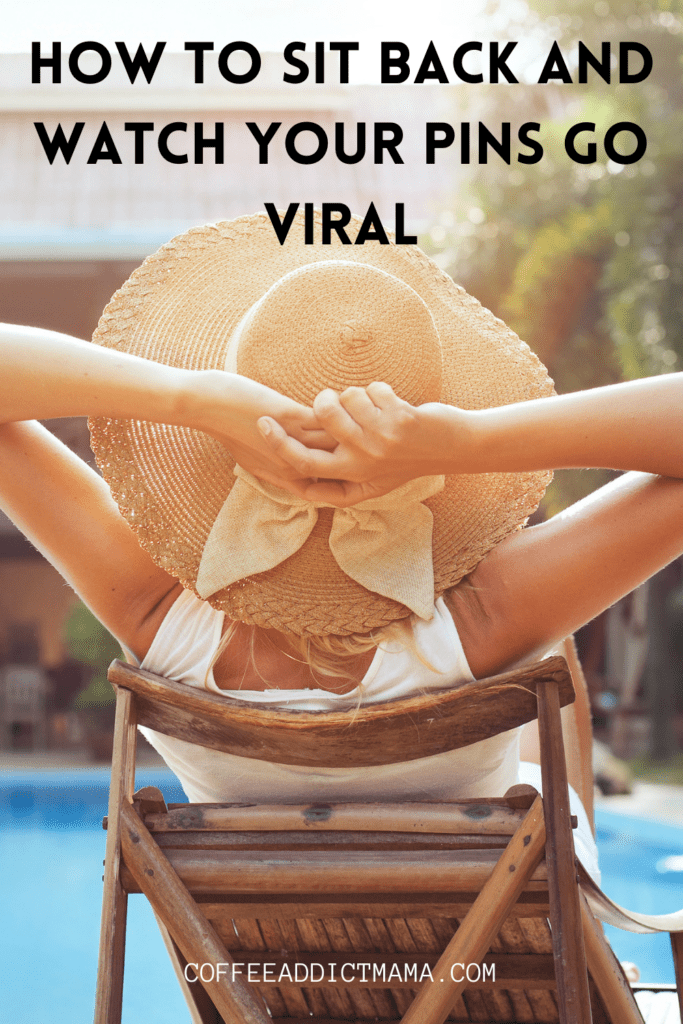 Many months back one of my pins went viral and then all of a sudden my other created content started picking up stats, saves, clicks, etc. This post to date is still one of my most viewed posts because of Pinterest. Over the course of a few years I anticipate it to grow a lot more. I wanted to share these stats with you especially if you're a newbie because I waited 8 years before I started using Pinterest and I gave up on many of my blogs because they didn't get read. Pinterest is where you want your business to be mama's. Stick with it.
Initially it may feel exhausting to pin but overtime you'll be able to sit back and watch your pins get clicks and saves without having to do anything at all. Be sure to follow us and stay tuned for more tips.