Best Coffee Cake Recipes When I was a little gal my mom always had coffee cake sitting on the dining room table. It was a must have for all the coffee addicts back in the day! Sound familiar? Well it wouldn't be fair if we didn't share the best coffee cake recipes of all time. I'm in love with baking and this is such a fun food to make. We researched and tested the top recipes so you don't have to. Perhaps the maple bourbon will go great with these!
SUGAR SPUN RUN shares her fabulous cinnamon coffee cake recipe that is to DIE for! The streusel topping is a must for those who love the brown sugar crunch. I personally would not make this any other way! It's exactly scrumptious and really a neat little addition to any bed and breakfast!!!
Next is my girl at Damn Delicious. She has the most fabulous recipes of all time. This coffee cake with crumble topping is another one you can try. I'm giving you the top 5 best coffee cake recipes so that y'all can enjoy a taste of the good life. It's not easy choosing just one of these awesome bakers ……. which means you can try at least 2 or more. She uses greek yogurt in her recipe.
What's great about these recipes we're sharing today is that they each have an easy print out selection so you have it at your fingertips.
If you like the sour cream version, try this. It's absolutely delicate and so very easy to make. It's always a great idea to steal GRANDMA'S RECIPES. Hellllllo!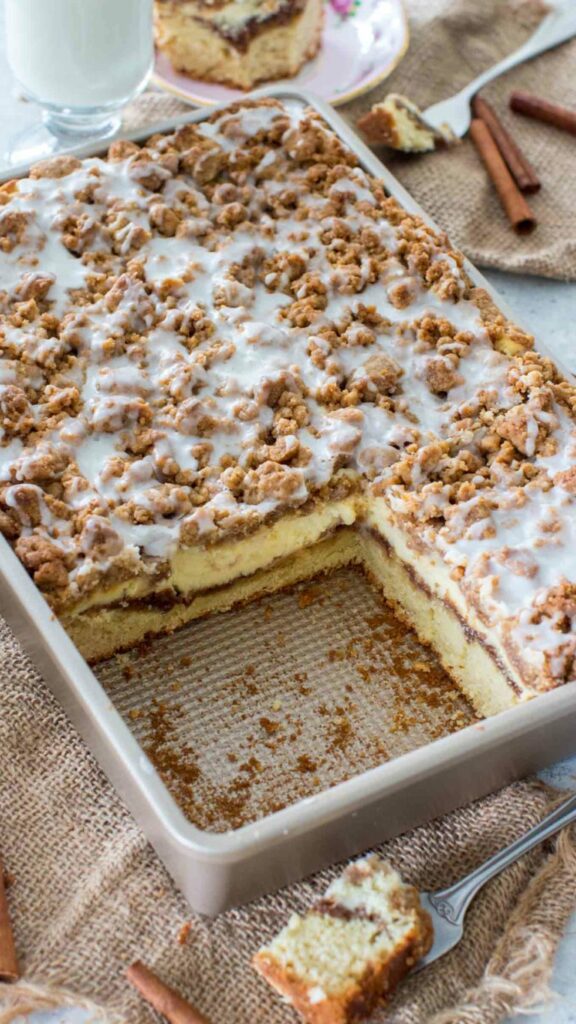 CHEESECAKE optional said no one ever! Added cream cheese, hell to the yes! The best ever coffee cake recipe breaks it down for you and shares where the cake was originated from, how to store and more. Win win recipe for sure.
LIL LUNA has style for the simplicity in our lives. This coffee cake recipe is not only easy but includes nutritional value and has a 4.75 rating out of 155 votes. Now that's really good. Moist and delicious.
Coffee Cake was intended to be eaten with coffee. In the 17th century, Northern/Central Europeans came up with the idea. Over time bakers added cream cheese and sour creams to the recipes. It's a sweet morning, afternoon or evening dessert for any coffee lover. I'm excited to share more recipes on Coffee Addict Mama. I love food and coffee. It's such a great conversation piece, no one can resist! Share your favorite recipe below and be sure to let us know if you'd like to write an article for us.