In today's coffee talk we are updating y'all with the latest news on the Realty TV stars, Todd and Julie Chrisley.
"The 11th Circuit Court of Appeals can reverse the District Court, or they could remand the case back for hearings that should have been held that were not held during the course of this trial," Surgent told People. "We argued very vigorously that their constitutional rights have been violated, and that they basically were not given a fair hearing. It's all in black and white, actually."
Todd and Julie were found guilty of fraud and were sentenced in November of 2022, but didn't report to prison until January of this year. [Via]
The Chrisley's daughter Savannah has been a huge advocate speaking out about her parents court and trial appearances, charges, and more. Her recent Podcast Unlocked, "Talk To My Lawyer", features Todd and Julie's attorney Alex Little.
Todd and Julie were arrested back in 2022 on Federal Criminal Charges of Tax Evasion. There's talk about the lies and misunderstandings behind the case and Savannah is on a mission to expose the truth. If you're not familiar with Chrisley Knows Best, it's streaming older episodes daily on USA Network, DirectTV, E! and video on demand. The family is witty, blunt and just like any other American family; secrets, imperfections and raw truth shouldn't be shamed.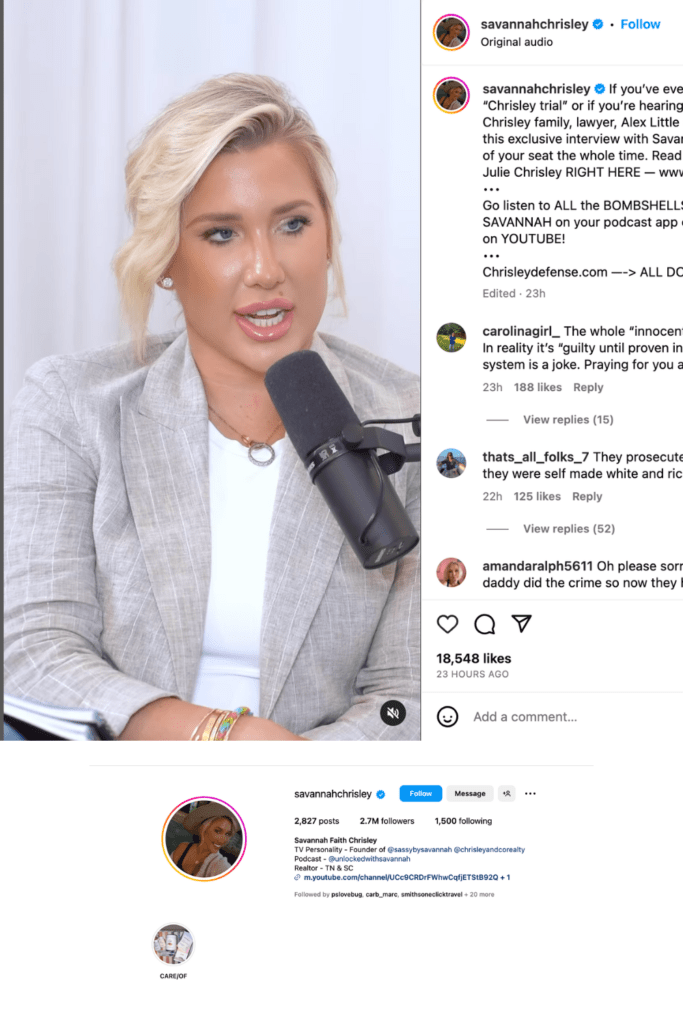 Multimillionaire real estate developer and entrepreneur Todd Chrisley, his wife, Julie, and their children are a picture-perfect Southern clan who have everything money can buy. But behind their over-the-top lifestyle lies a real family with real problems and major drama. Todd Chrisley runs his life like he runs his business — with an iron fist — and doesn't care who he upsets in the process. A major control freak with a flair for freaking out, he micro-manages his family's every move and every expenditure. No hair is out of place in the Chrisley home, and no kid is out of line — or so he hopes. [Via]
Chrisley Couple Facing 19 Years Imprisonment for Tax Evasion
Todd Chrisley was born on 6 April 1969 in Georgia, USA. He is a producer and actor, known for Sharknado 4: The 4th Awakens (2016), Growing Up Chrisley (2019) and According to Chrisley (2017). He has been married to Julie Chrisley since 25 May 1996. They have three children. He was previously married to Teresa Terry.
Growing Up Chrisley aired in 2019 starring Savannah and Chase as they embark on a cross country trip to prove they're "grown ups!"
Despite the family drama, The Chrisley's are doing everything possible to stay positive and keep it together for their parents. I know both Todd and Julie are extremely proud of their kids.
"195 days without a word to each other…" Savannah wrote in a July 1 Instagram story along with throwback images of the couple. "My heart is breaking…Please help to bring justice!"

Savannah Chrisley
Todd was sentenced to 12 years behind bars, with Julie getting a seven-year stay, the U.S. Attorney's Office for the Northern District of Georgia announced in a statement obtained by E! News. 
The couple plans to keep appealing the case. However, Kate Mangels—an attorney unaffiliated with the case—noted to E! News that there's "a very low percentage of appeals that get granted."
Keep up with The Chrisley's by listening to Savannah's Podcast Unlocked.