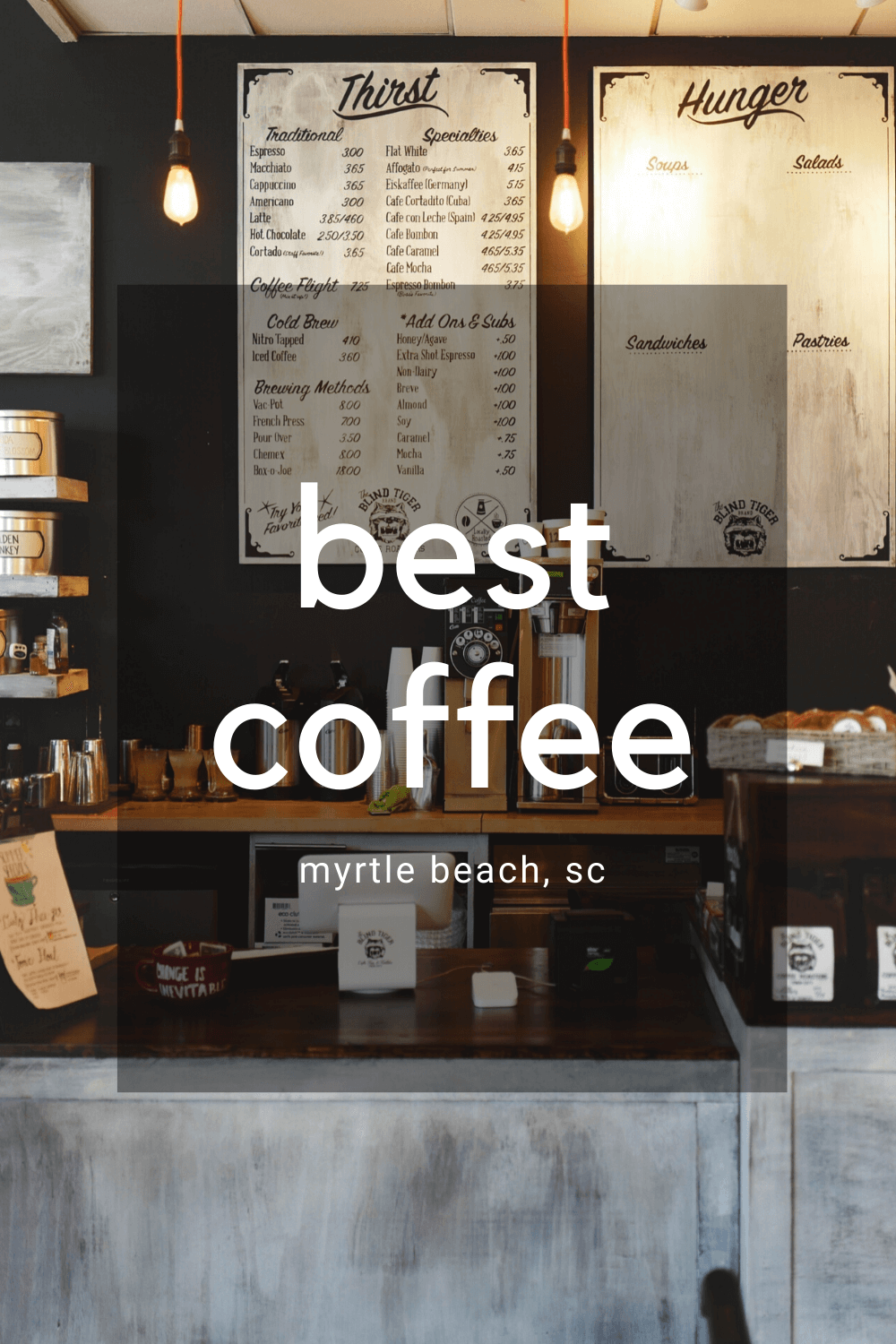 Hello my coffee addicts! Since relocating to Myrtle Beach, South Carolina, it's been a challenge finding good coffee shops nearby. There's only a handful that really know their coffee and treat customers respectfully. That's mainly why you find me preparing mine here at home. When moving to or vacationing any area, you want to know where the best coffee is! Today, I'm sharing the top coffee shops in the famous tourist cities, Myrtle Beach to Pawley's Island.
We live about ten minutes from the boardwalk. It's not always convenient for those that commute to work everyday but when you are visiting, Boardwalk Coffeehouse is a quaint coffee house to go in, order some coffee and sit outside where the ocean breeze hits your face! I wouldn't say they're known for iced coffee drinks but it's perfect for the everyday coffee drinker. I like to go and walk the boardwalk with coffee in hand!!
BEST COFFEE SHOPS IN MYRTLE BEACH
If you're anything like me, sometimes coffee at home and in a hotel are just not the same as ordering a freshly brewed upper class cup of joe from a local shop. It's just a treat. Here's the top rated in the area.
Fresh Brewed Life– this coffee shop has over a 4.5 Google rating and hosts live music events for locals and tourists to enjoy the simplicity of everyday life. They are located at 933 Broadway, Myrtle Beach, SC 29577 and prices are beyond reasonable. If you're looking for a nice place to drink your morning or afternoon cuppa, join them at Fresh Brewed Life.
The Roasted Bean– this is more up my alley in terms of location! We reside in South Myrtle and The Roasted Bean is just minutes away nestled in the heart of Market Common, a lively and upcoming Myrtle Beach area. Their website doesn't do much for looking over menus but who needs a coffee menu? Eh……Just put them in your maps and enjoy a new cup of roasting.
Pawleys Island Cafe and Bakery– well known for a good cup of coffee and sweet treats! They boast over 4 star rating on Google and it's a pleasant drive from Myrtle to Pawley's. Stop and share a baked dessert if your coffee needs something sinfully delish to go along with it. They're just steps away from the beach and there's nothing more relaxing than the scenery in Pawley's Island.
Now if you need to make a quick iced coffee for the upcoming months and find yourself not close enough to grab one, here's a simple way to use instant coffee. Instead of heating yours on a stove, use a microwave to heat the water.
Lulu's Cafe is highly rated although I have never been. I know, I know…..what am I waiting for Coffee Addict Mama. It's right on Ocean Blvd, steps from the ocean and certainly a must to explore. Looks like a fun retro shop that offers not only good coffee but yummy food! Like them on FB and put Lulu's Cafe in your maps the next time you're in Myrtle. 
Moving on to my final coffee shop recommendation: BEACH DREAMS MARKET is a North Myrtle Cafe and fun artisan shop. This is a far drive for us locals living on the south end but truly a treat if you're vacationing in North Myrtle Beach. They sell handmade soaps and scrubs, shower products and more. 
If you're in the Myrtle Beach area and know nothing about it, here's a local tip: stay either far North or South…….it's a party zone in the middle, haha!!! 
I hope you enjoyed taking a peek at some local coffee shops in our area and if you'd like me to do more posts like these, just leave me some love in the comments!! Happy coffee-ing!