Apparently Gina has something to say about everyone and everything especially pointing out the 'true friendship' between her and Heather Dubrow in Episode 7 of Season 17. Isn't Heather just trying to be a supportive friend? Gina plays the innocent role mentioning, "It's my feelings", while never letting anyone else get two words in edge wise. Some are beginning to think that Gina and bestie Emily are the true drama queens.
Gina joined The Real Housewives of Orange County back in 2018, Season 13. Ever since people have been talking about how she flip flops between besties. Formerly good friends with Shannon Beador, Gina had several bones to pick with her lending to a closer relationship with Heather, but things are looking like Gina has bones to pick with everyone.
I think it's safe to say we all have feelings, but the way she's reacting is a bit aggressive, snarky, argumentative.
The big bad Gina is out!
Real Housewives Of Orange County Star Gina Confronts So Called Friend In Episode 7, Season 17
After talking to boyfriend Travis Mullen about her trip to Montana, Gina expressed that Heather approached the vehicle and told her not to share details with him. Crying hysterically claiming that she was afraid to reach out to him the rest of the trip because Heather was there. The clip basically shows how emotionally upset and hurt Gina still is over her divorce with ex-husband Matt.
Current boyfriend Travis tells Gina that it's totally okay for her to vent to him about her ex because that's what he's there for. This gives her the courage to confront Heather while at the dinner table with the rest of the Orange County housewives plus an additional guest. A dinner Heather hosted. More on the real housewives coming soon.
OH NOBU YOU DIDN'T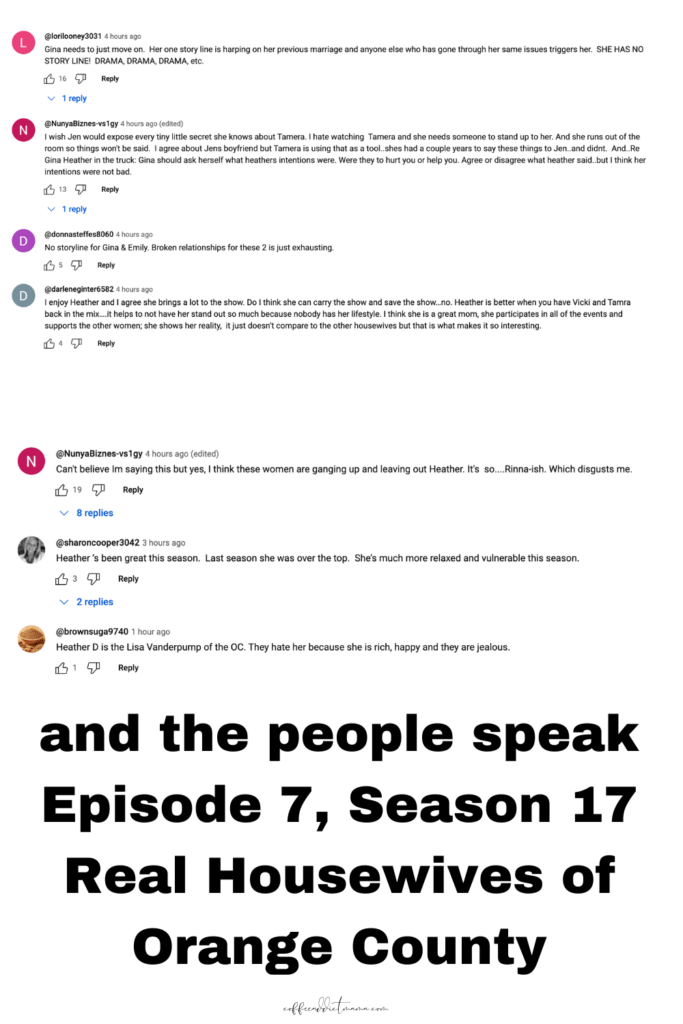 Snippy. Just a mean girl? Weigh in coffee friends. Perhaps she's trying to stand tall in a tough crowd.
Let's not forget the two faces. Behind Jennifer Pedranti's back she was snarking about her affairs, adultery and now she's best friends with her?
Now you want to be friends with Jen because things aren't going well with Heather?
What's going on here.
Can't keep friends.
Questioning friendships.
Interfering with other people's business.
Judgmental?
What's really going on Gina…