5 Safety Tips For Long Traveling With Cats | Travel Guide For Cats With Anxiety
Hello cat mama's! We made it through our long (12 hour) car travel with our 2 cats, Cleo and Chloe. Traveling from South Carolina to Southwest Florida was a bit nerve wracking but we took every precautionary measure to ensure a smooth, satisfactory ride. When we first found out that we would be relocating, this mama started preparing from the start. With packing, hiring movers, and loading up a Uhaul for our small 2 bedroom apartment, we wanted to make the car trip with the cats as hectic/stress free as possible. Doug made it very clear that Hannah, our 16 year old teen would be driving with the cats and I while he drove the Uhaul down. Today, I will be sharing my best 5 tips for safe travels with your furbabies.
Safety Tips For Cat Traveling Families
I drive a small Toyota Corolla so the back seat is just big enough for 2 cat crates and that's it. We loaded our bags and essential needs for the trip stops and hotel in my trunk. Everything else was in the Uhaul truck with Doug. Setting aside 2 throw blankets for the back seat, I laid one across the entire back seat and then Hannah and I placed Cleo and Chloe on the seats in their locked crates. From the beginning, I had cleaned out their crates (they go in separate ones even though they hop in together at times), and saved the cleaning of the apartment for last, leaving their cat litter pan out for last minute potty trips. When we had everything removed from the home we placed them in the crates and let them hang out with us in the house locked up for a few minutes before we actually put them in the vehicle. This allows them to understand that something is about to take place and I wanted them to get comfortable in there without just shoving them into the car.
Long Car Travels With Cats Made Easy
Doug purchased 2 disposable cat litter pans from the grocery store, one for the car and one for the hotel. I placed the litter pan neatly on the floor behind the passenger seat. Our cats never used it in the car but it's there just in case. The litter is not that great of quality. But since I already knew that they probably wouldn't be using it much, we went with these. You can also pour your favorite cat litter in a pan and use that just as easily. We did purchase a brand new pan to use immediately upon moving into our new apartment. I had some of the Ever Clean (they only brand I will use because the cats absolutely enjoy this kind) left over from the old apartment so, I just kept that with the new pan and scooper, carried it up to the new place when we got there and prepared them in a room until we finished up with moving everything in the house.
Helpful Tips For Preventing Anxiety In Cats While Traveling
After the car was all set up with the cats in the back seat we laid a throw blanket across the top of the two crates. They were laying side by side and could peek out at each other from the opening of the crates and the lightweight blanket just ensured that they would feel confined and safe.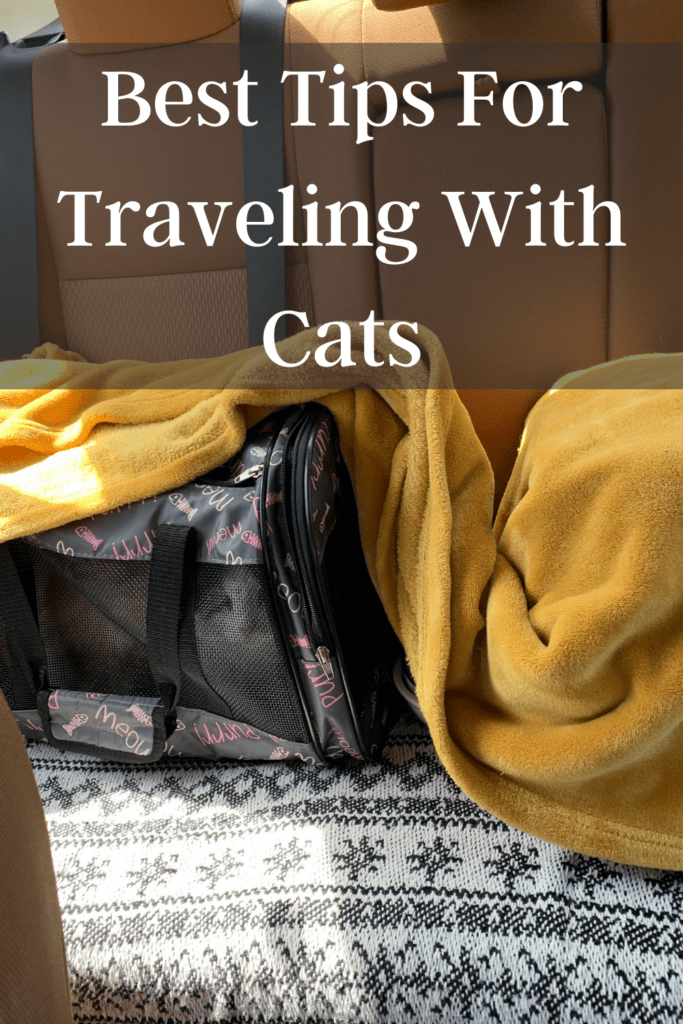 Make sure the car or vehicle is properly ventilated. We had the air on so that it was cool enough for them to not get over exhausted with warm temps.
Keep them crated until it's time to take breaks and let them out. Cats normally want to be hiding away from traffic noise anyways, so even if the door to their little house was open, they stayed in. They only peeked out every so often when we were talking to them.
Talk to them and let them know everything is okay! Hannah and I both took turns chatting and petting them to make sure they felt safe.
Cat Life Be Like
When you stop for gas and stretch out, do the same for the animals. I rearranged their crates according to comfort and situated them a few times. Their 'temporary homes' were facing each other and the flap to the door was open and tucked under the other one. If you're only traveling with one cat this won't be necessary. For families with 2 pets, the other pet is normally their companion and it's CRUCIAL that they be able to communicate with each other.
Place a small bowl for food and water on the seat in between the crates. We poured fresh water into the bowl and set in front of them. They took a few sips of water when necessary. They barely ate but did nibble a few times. Cats can usually go a long while before eating. However, having some pet food available is key to keeping their anxiety levels low. Cats suffering from anxiety should have as much of their NORMAL surroundings nearby as possible. This makes them feel safe and comfortable. Place a handful of nibbles inside their crate if they won't eat from the bowl.
Car Traveling Tips For Families With Cats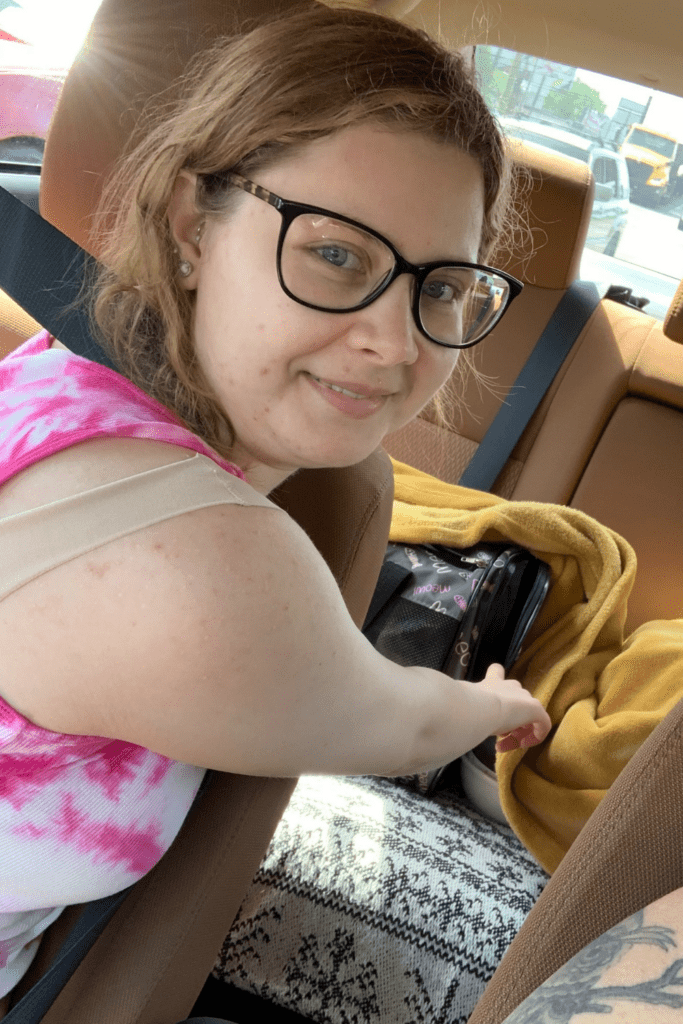 I definitely think you have nothing to worry about if you're a solo traveler. Being organized and prepared is the biggest key to success. I'm happy to announce that I'll be rolling out a Travel Category here on the Coffee Addict Mama Blog. By no means am I trying to convince anyone to become a minimalist but it helps in so many ways. Not in just living at home but travels, owning pets and your overall lifestyle in general.
5 Safety Traveling Tips For People With Cats
Once we got to the hotel, the cats were placed in the bathroom with a chance to roam freely. The Hilton is pet friendly if you ever need to travel with pets. They did come out to the room for a little bit but for the most part they camped out in the front hall area with their crate beds open if they wanted to tuck away. We always travel with minimal bags to carry into the hotel so it's a quick in and out. I personally don't bring travel suitcases into hotel rooms with me for fear of bed bugs, etc.
Basic Overnight Hotel Tips:
Take in one outfit to change into in the morning with a minimal overnight sleepwear for each person
Pack only the essentials- toothpaste, toothbrush, face cream, lotion, soap, etc (I skipped doing my hair & makeup so I left the hot iron/beauty items in the car and did my basic makeup routine in the car)
Place clothing in one small carry bag and essentials in another (we use eco friendly, reusable bags so we don't have to worry about cleaning our luggage)
Take the disposable litter pan in and if it's barely been used; either leave for them to place into a garbage or bring in a garbage bag and dispose in the dumpster upon leaving
Zip the crates up and gather your pets/belongings for an easy check out. Dump the food/water bowl, rinse and wipe clean to pack away for the next days trip
Don't overthink: Don't overwhelm; Stay Minimal
Finally always CHECK to make sure you have everything before departure and say your prayers! Everything will be okay. And, I promise that you will have a lovely road trip experience with your amazing cats if you plan ahead of time.
Do you travel with animals? What's your best tips. We want to know. Chime in #furmama's … Until next time, more coffee please.