This is the basics to Canva, a design platform for entrepreneurs, bloggers, businesses and graphic designers to showcase their websites in a beautiful manner. If you're looking for a fantastic, free way to elevate your online presence, this post is for you! Years ago, I accidentally deleted Photoshop from my computer and ever since I've been creating simple yet fun graphics through paint for my blog. Yes, paint! Like, update your design skills mama. This article will outline a ton of free ways to use this magical site for all your design needs.
Welcome to Canva 101. We're going to learn how to design for free. And, if you want to elevate your game you can always upgrade to premium like I did.
HOW TO USE CANVA TO DESIGN ANYTHING
This reminds me of back in the day when I had so much fun doing tutorials for new bloggers. I loved lending a hand whenever possible, so please let me know if there is something I can write out for you in plain English.
For this Canva tutorial, I will be covering the basics of graphic design and below I will incorporate some more fun features that I have been using as of late.
Using Canva To Design Your Business
Begin by opening an account at Canva.com. You can easily access through your FB accounts. Once you are in you will see something that looks like this: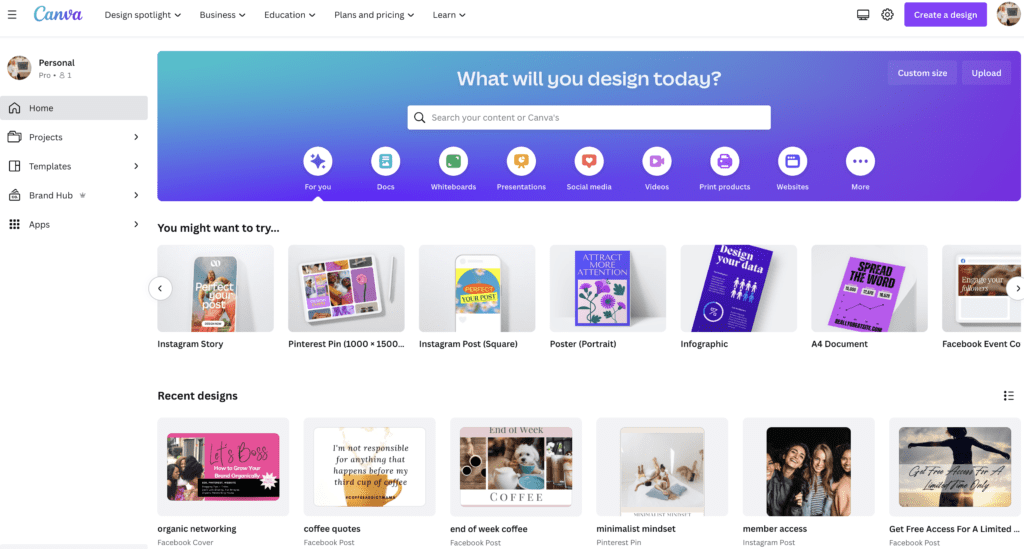 It's pretty self explanatory but it can be confusing for some that know nothing about editing. I have been just searching for things like MOOD BOARDS 👉 LOGO 👉 WEBSITE 👉 EBOOK
These keywords can be typed in the search box and a lot of templates will pop up for you to gather ideas. Great for STORIES on IG + FB, Pinterest, pretty much anything you can think of. It's amazing how much they've grown.
If you are not familiar with this platform use the FREE version until you get used to it and then update because all the PRO features are well worth it.
CREATE A DESIGN USING THE TEMPLATE YOU CHOOSE
I like the Facebook Post Option, Pinterest Graphic and a few others that are nice to use. Click on the design you would like to create something out of.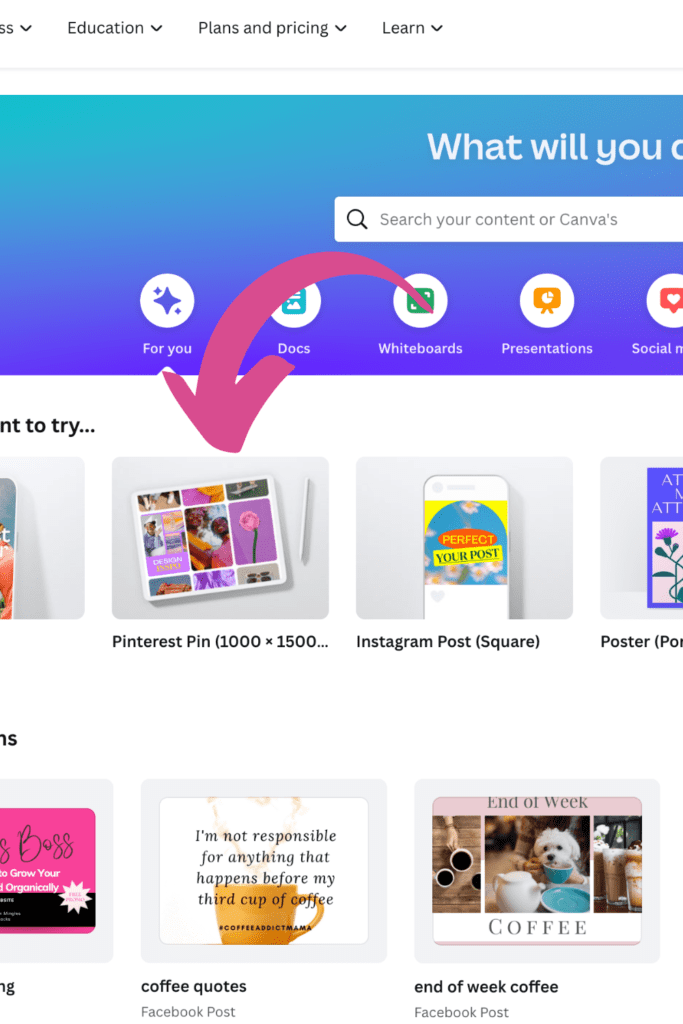 CLICK ON ANY DESIGN TO START EDITING: (I chose Pinterest Graphic as seen below in the upper left hand search box).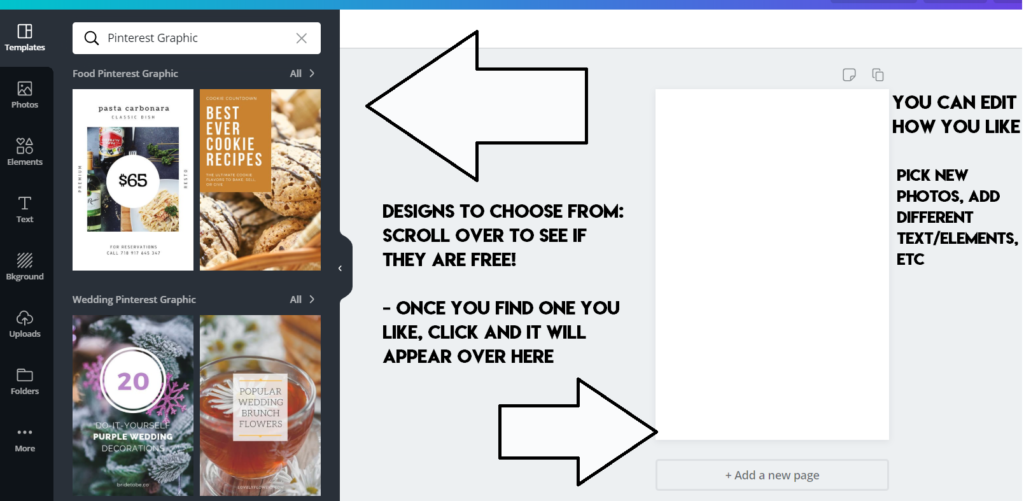 This allows you to get started.
IMPORTANT to remember that you can always GO BACK to HOME if you need to start over again. Over on the left is a column of things to click on: PHOTOS | ELEMENTS | TEXT | BACKGROUND | UPLOADS | + MORE.
After choosing a template, you can change the photo that comes with the template. Just click on PHOTOS (you can search all kinds) and select a new photo by dragging it over to the template.
Here's the tricky part with Canva photo selections. You need to drag the pic right into the background or it will just add a new photo. If you're looking to replace the current pic but having difficulty: watch the video below!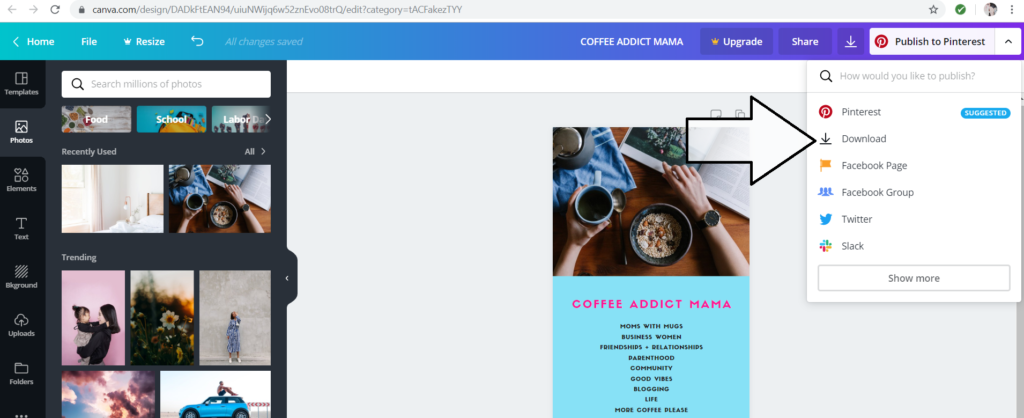 I quickly created this simple yet fun graphic using the Pinterest template, food option, then changed the pic by selecting photos over on the left, dragged the pic I wanted over to the template, changed the text by clicking on the words and writing what I wanted instead. Once I am done and happy with my work, go to the upper right hand arrow where it says, PUBLISH TO PINTEREST and choose download.
PNG is always recommended, but you can make different choices. I always download because I manually pin everything and it's just easier for me.
Now you have it saved and publish to your social media accounts.
BASICS OF USING CANVA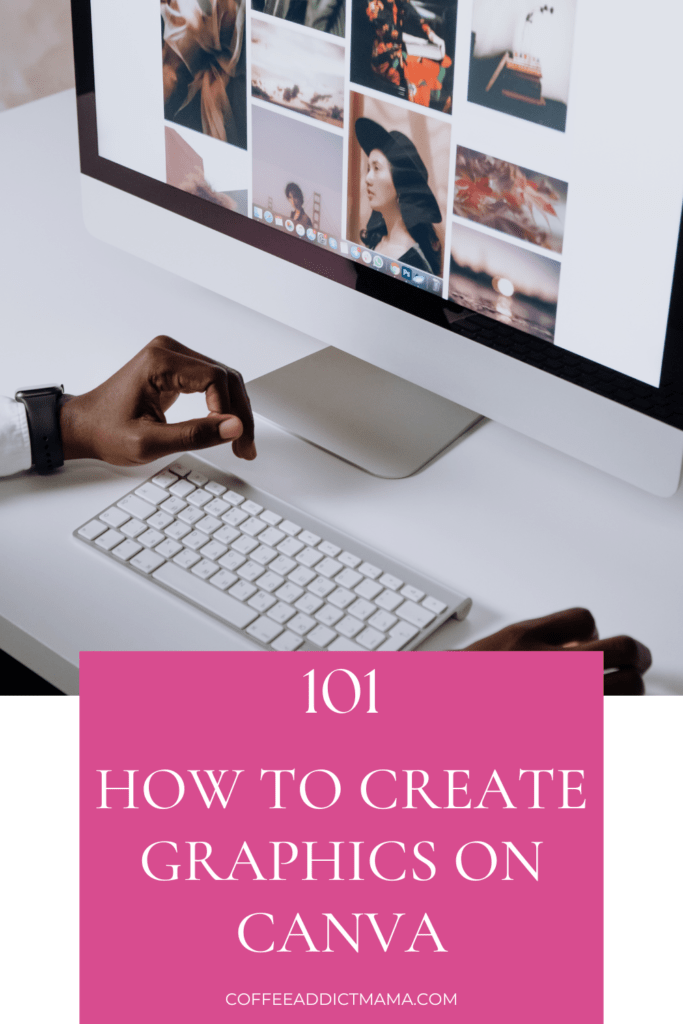 To Create A Custom Design:
Go to the upper right hand corner and click CREATE DESIGN
Scroll Down To CUSTOM SIZE
Type in the width and height you need your design to be.
If you need a logo just search logo, so on and so forth.
To Change To Your Brand Colors:
Go to the selected theme FOR EXAMPLE: Instagram Post – Over on the left click on STYLES – You'll See BRAND KIT – Select edit to add yours
To Add QR Code To Your Design:
Design your graphic then click APPS over on the left sidebar
Select QR Code
Type the URL you want it to go to
Update Code
Stay tuned for more tutorials! If you need any help please join our BBB! Enjoy