Welcome To Boss Blogger Bootcamp, an online course that teaches you how to start a WordPress website and grow your brand organically through blogging, marketing strategies, SEO hacks and tips.
This course includes
Beginners Guide + Setting Up
WordPress Dashboard
Intro To Blocks, Themes, Plugins
SEO
Branding Tips
Organic Networking
How To Make Money Blogging
Private & Supportive Community
How To Write A Proper Post
Giveaways + Weekly Promos
Post Ideas, Tips and More
Building Landing Pages, Lead Magnets
Email List Building
Starting Your Own Community
Starting a WordPress site and building a brand from the blog up! Welcome to Boss Blogger Bootcamp, a course that walks you step by step to elevating your blogging skills from beginner to advanced and beyond. We focus on all the basics, organic growth and learning all there is to know to make your business successful.
How To Start A WordPress Blog And Keep It Growing
In Boss Blogger Bootcamp you'll have unlimited access to constant learning and growth, building that boss brand of yours!
LIMITED TIME ONLY*
Access the course early and get your deal of a lifetime. This won't last long. As the modules develop and lessons are published, the price will go up. You don't want to miss this chance to enter at the lowest price ever. When you get into the course you'll see new modules and lessons pop up weekly. If a lesson is empty that means it's being worked on and will be published soon so, check back and log in often. Hop into the group for more tips, giveaways and a head start to building your business for 2023.
Bonuses:
Canva- learn all there is to know about Canva to elevate your design skills, grow your socials, teach classes, etc
Woocommerce Shop set up and tips
Social Hacks
Pinterest For Business
XXX (lots more…too much to list, ha) We're always evolving! Join today
Sneak Peek
Ready To Start Your WordPress Website
Introducing the organic way to grow your brand and successfully run a business straight from the comfort of your very own home. Whether you love to write and want to create a nice income for your family, or you're full on strong with creating a shop that is all yours with no fees, perhaps you have a brick and mortar that isn't getting nearly enough sales…you can start a WordPress site and begin your long time journey as an entrepreneur no matter which way you look at it. 
Make money as a food or travel blogger
Create passive income through several different ways
Grow your brick and mortar or online shop in ways you never thought imaginable
Turn your website into a money making machine
Get an inside community that supports your dreams and helps you grow fast
Direct traffic to your site while you sleep
Boss Blogger Bootcamp isn't just about blogging. It's about growing your brand and becoming the boss you know yourself to be. Ditch the 9-5 and start making the money you desire.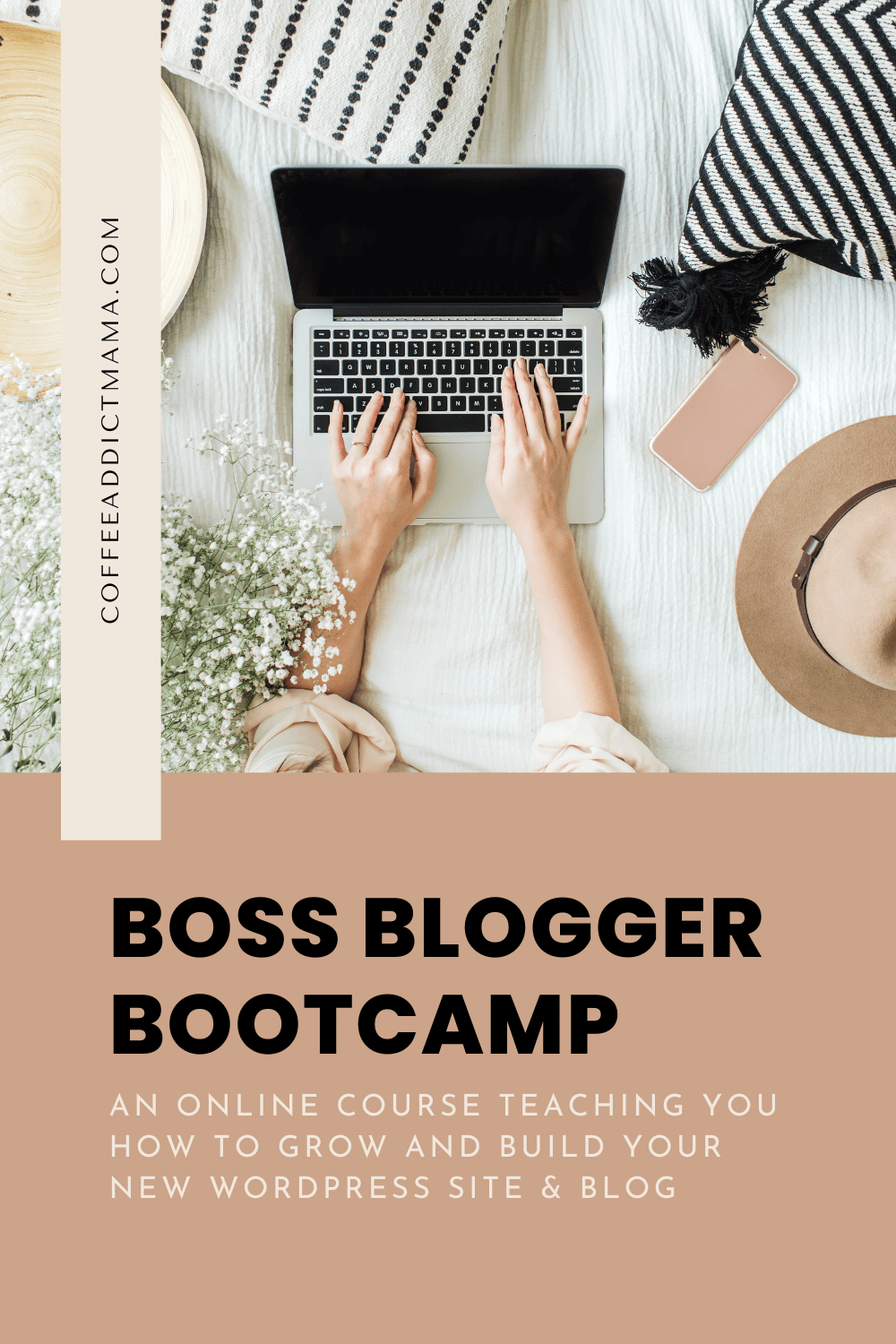 A- No, but essentially you want to learn how to create blog posts for SEO purposes which will lead you to show up first when customers are looking for your services/products on Google.
A- Blogging isn't for everyone but, if you can learn the very basics to creating quality content to land on Google's front page when people are searching for your products, services, etc, then you should join BBB to build your brand organically and connect with our community to help support you through backlinks, etc.
A- We recommend creating a decent amount of blog posts to publish every month in the beginning (start the drafts) and then we teach you how to go in and edit older posts so that you don't always have to come up with new content.
A- We are making this a lifetime access because we know how important bloggy breaks are and we don't want to rush anyone. It's yours to come back to time and time again.
A- We have done several years of research and ultimately you can grow your brand/business on social but you'll never have as much success as you would if you dedicated time to growing your very own website. Wordpress is the best platform to run your business on and the sky is the limit when you get crafty with ways to bring in passive income, grow your sales with our SEO tips/hacks, and evolve overtime. Having a blog attached to your website is the creme de la creme. You don't want to ignore this special asset to your company.
A- When you get inside the course you will see modules already started. New lessons will be added weekly to those modules and content will be published often inside our private FB community along within the course. So, be sure to log in daily, weekly or monthly for the latest.
A- Not at this time. Our offer is legit the best bang for your money and we don't expect that you'll not learn a lot. Throughout the course of this program you will be receiving a boat load of information that will guide you to running a successful business through your WP website and blogs, so please do not ask for refunds.
A- Victoria is really good at walking you step by step through something you don't understand and will do 1:1 sessions for anyone that doesn't understand after watching the video tutorials. Also, ask as much as you like in the community and leave comments on the lessons so we can create a tutorial for you moving forward.