Hello and Welcome! Thank you for joining us on Coffee Addict Mama. Today I wanted to discuss self care more than anything because this weekend was it for me! I took myself back. I was so focused on work, growing my business and making everyone else happy; I somehow managed to lose myself in the game. This has happened before. It has and will happen to all of us often, so it's essentially important to remind ourselves to take care of 'YOU'! Now don't worry. If you're thinking you're all good…..and you might be, your body will let you know when it's time to rejuvenate. I'm definitely an introvert at heart. I love my people. But I do indeed love myself more.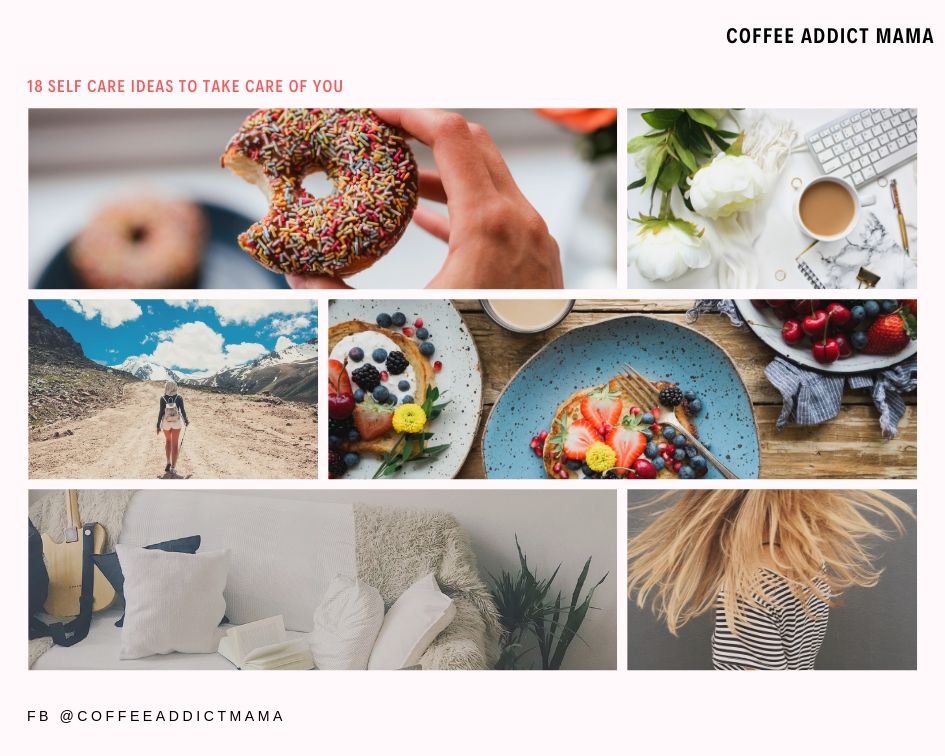 18 SELF CARE IDEAS TO MAKE YOU 'YOU' AGAIN
Do your hair– if you follow us on FB you know I spent most of Friday afternoon touching up my roots, trimming my dead ends and straightening this head of curly hairs. Long overdue and well worth it because it made me feel instantly better about myself. I mean, I love my curly hair but there's something about a silky smooth that makes ya wanna go……'mmmmmmhhhmmmm'!
Buy Sugar Scrubs + Take A HOT Bath– Ulta has my all time favorite variety of sugar scrubs and whenever I'm LOW, I go stock up on more, take a hot bath and scrub all the toxins away. Feel free to make your own too!
Take Yourself Out– I don't mean you have to go to dinner by yourself ( or go right ahead ) but go for a long drive and get lost. I take mini road trips to think, get my head clear and even cry! I just find that time spent in a car driving by yourself is a way to take 'YOU' back. Sometimes I'll wander a store by myself too.
Create A Bar– I just recently made my plant stand a coffee bar. It's fun and relevant to me! I need a little space in our little apartment for myself. When the cats took over my plants, I took over the coffee station. Create a little piece of spice in your home just for you.
Turn Off The Phone– So many of us don't realize how much we are on our cell phones throughout the day. While yes, it's important to hustle, promote and share……but instead of turning your phone completely off, just turn social media off. Use your phone to take more selfies, capture pics of the sky, flowers + nature. It feels good.
Take A Long Walk Outside– This is important to do often if you don't already and a sure reminder to make myself do it more as well. I know I probably won't because I don't feel comfortable in our community but to take a walk around to the back of the house where the golf course sits and just stroll along the trees is good enough self care for me.
Clean Your Bathrooms– I find that cleaning the bathroom and organizing stuff under the sinks makes me feel alive again. I don't know what it is but try it!
Shop At ReStore– This is a place I like to escape when life really gets busy and I have no other plans. I make a date with our local Habitat For Humanity shop to see what new stuff they got! The furniture here is definitely worth stalking. You have to go often too because they get donations all the time. If you haven't been to one in weeks, it's time to go!
At Home Facials- I can always tell when my face needs a deep clean. Facials are a must weekly or even every other day.
Go Through Your Closets– My weekly decluttering routine turned into a monthly habit because I literally got all of my clothing ( and the girls ) down to a minimum. It really helps to get rid of things to take back your lives. It makes such a difference in our well beings. If you don't wear it….toss it! Teach your kids to do this as well.
Make A Coffee + Sit In Silence– This is often a daily routine of mine. But I'm not talking about just your ordinary morning coffee. I'm talking about something different like, an afternoon iced ( cold brew ), cappuccino, etc……All you need is one cup of a specialty drink ( doesn't even need to be coffee, make a mixed drink of your choice ) and relax.
Bike Trails Be Like- I encourage everyone to pack a backpack and take a bike ride in a location you've never been. Be sure to pack that camera to capture the breathtaking views.
Organize Your Kitchen Cabinets– We recently looked at each other and said, "This is a mess!" After opening one of our lower cabinets to grab a strainer or something and realized it had gotten uncontrollably messy. Do you ever just hoard things for that 'SOMEDAY' project? I placed all of these glass jars down there in hopes to use them sooner than later and they're just taking up too much space. Clean your cabinets out one at a time. Feel the weight lifted. Incredible.
Write A Lengthy Blog Post– I know a lot of you don't have blogs and I would encourage everyone to start one. And I'll tell you why. If you notice in my 5 reason post, I don't say TO MAKE MONEY! That's not why I started one back in 2010 and I don't recommend it for those specific reasons. If you end up bringing in some extra dough because of it, good for you…..but not a reason to start one. ANYWHO…..writing a blog post will help you with anxiety, depression, stress and whatever else you need to overcome. Writing is a natural way to take yourself back and be a better you.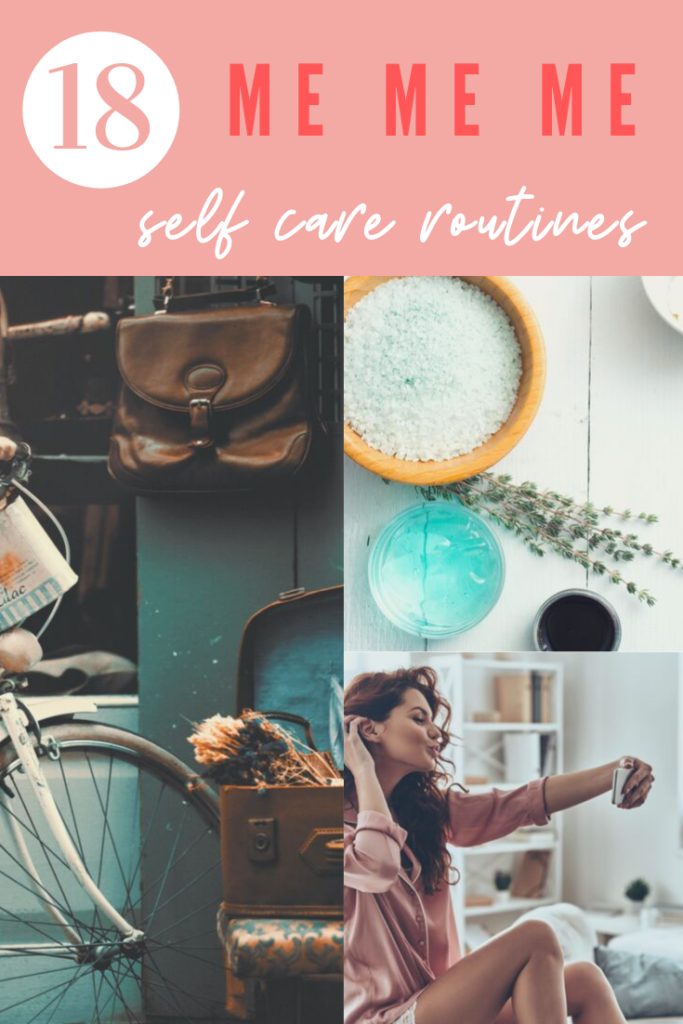 Visit A Shelter– Or even a pet store. This is just nature. Something about these creatures make us feel worthy, alive and puts a wellness back into our souls. If you or someone you know is struggling with anything, a pet might be the answer.
Go Swimming– I need to take my own advice on this because a pool sits right across our building and I don't access it enough. I will say that I don't like when a lot of people go because I need to relax, so I need to pay attention to when no one is there and take some time to swim comfortably. If you don't have access to a pool, look into your local YMCA.
Give Something Away– I will admit that I don't donate things. I throw them away. However, I do place boxes of items in a nice area near our dumpster so that people can go through them. It makes me feel better to host a giveaway on my social media or give to a neighbor or someone I know rather than donating it to a place that overcharges and really doesn't take care of their stores.
Make Lists– I purposely buy new notebooks and supplies to make notes of things I need to do or write about. I find that in my older years, I enjoy seeing these lists on the fridge or tacked to a board in our bedrooms, etc. Helps you to get shit done!
There's so much more that we can do to take care of ourselves. I have to remember to love me first or I will never be happy. I found that taking a weekend just to do my hair, paint my nails, do a mini photo shoot and pick some flowers helped me realize that that's what I L-O-V-E. That's me. Share ways you pamper yourself below! And join us on FB + IG.